Banana Scones with Cinnamon Glaze from Lori Lange's newest cookbook! The perfect addition to your morning cup of coffee!
I love cookbooks. I collect them and read them like novels. All of my cookbooks have post-it cards sticking out of them, bookmarking the recipes I want to try.
Once in a while, I will find a cookbook that is hard to put away. You start flipping through the pages and instantly feel the need to run to the kitchen and start cooking. That's what Lori Lange's aka RecipeGirl's cookbook is to me. I had the pleasure of receiving Lori's signed copy of her newest cookbook. Lori is a pioneer in food blogging. She started her super successful blog in 2006 and grew it into one of the most popular blogs you can find. And for a reason. Her recipes are easy to follow and the results hard to resist.
 I've had her cookbook for only few weeks, but I've already made a handful of her recipes.
Upside-Down Brown Butter-Banans Coffee Cake
Cinnamon Roll Pancakes
Slow Cooker Carnitas
Creamy Skillet-Baked Penne Pasta
Meyer Lemon Loaf Cake
.....and I still have tons bookmarked!
So with so many to choose from for today's feature, I decided to give it up for a family vote. These Banana Scones with Cinnamon Glaze won the hearts of our kiddos and were voted number one! They are absolutely perfect. We loved the banana flavor and the cinnamon glaze was finger-licking good! You have to try them!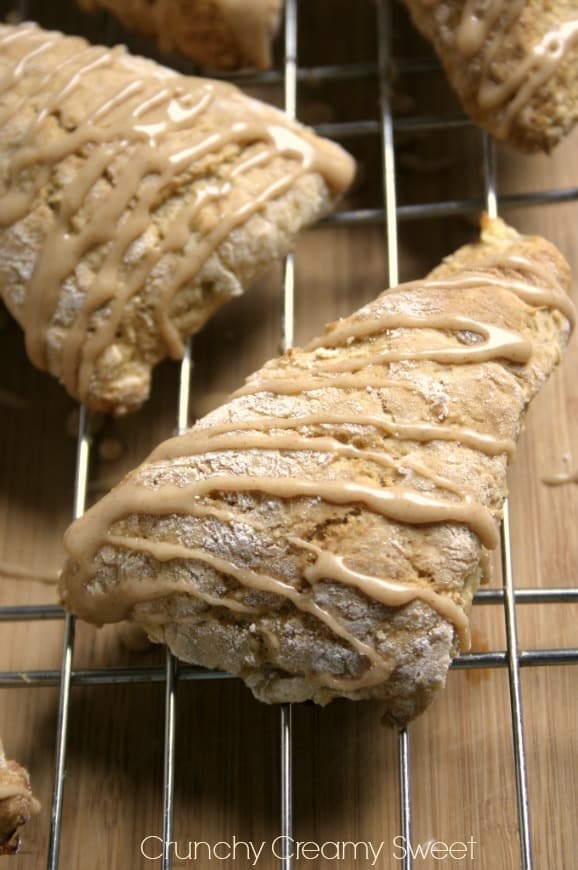 Banana Scones with Cinnamon Glaze
Banana Scones with Cinnamon Glaze - our favorite recipe from Lori Lange's aka RecipeGirl's newest cookbook!
Ingredients
2

c

all-purpose flour

½

c

granulated sugar

1

tablespoon

baking powder

½

teaspoon

salt

½

teaspoon

ground cinnamon

6

tablespoon

salted cold butter

cut into pieces

½

c

mashed banana

1 large banana

1

large egg

3

tablespoon

whipping cream

more flour for dusting

1

c

powdered sugar

sifted

2

tablespoon

milk

¼

teaspoon

ground cinnamon
Instructions
Preheat the oven to 425 degrees F.

Spray the baking sheet with a cooking spray or line with a parchment paper. Set aside.

In a medium mixing bowl, whisk together the dry ingredients (flour, sugar, baking powder, salt and cinnamon). Add the butter and cut it in with a pastry cutter until the mixtures resembles coarse crumbs.

In a medium mixing bowl, whisk together banana, egg and cream. Add the dry ingredients and fold it all in with a spatula or a wooden spoon. Do not overmix.

Dust your countertop with flour and place the scones dough on the surface.

Sprinkle the top with more flour.

Pat the dough into a round disk.

Transfer onto a prepared sheet. Pat it down into a 1 and ½ inch thick disk. Using a sharp knife, cut the dough into 6 triangles. Gently pull each one away from the center, creating about ¼ inch space between them.

Bake for 15 to 18 minutes, or until golden brown on top.

Cool on sheet for 20 minutes.

Prepare the glaze by whisking all the ingredients together.

Place scones on a wire rack over a rimmed baking sheet.

Drizzle scones. Let the glaze dry for few minutes.

Serve.
Notes
These scones are the best eaten on the same day.
Nutrition
Calories:
454
kcal
|
Carbohydrates:
74
g
|
Protein:
5
g
|
Fat:
15
g
|
Saturated Fat:
9
g
|
Cholesterol:
68
mg
|
Sodium:
314
mg
|
Potassium:
330
mg
|
Fiber:
1
g
|
Sugar:
38
g
|
Vitamin A:
515
IU
|
Vitamin C:
1.7
mg
|
Calcium:
113
mg
|
Iron:
2.3
mg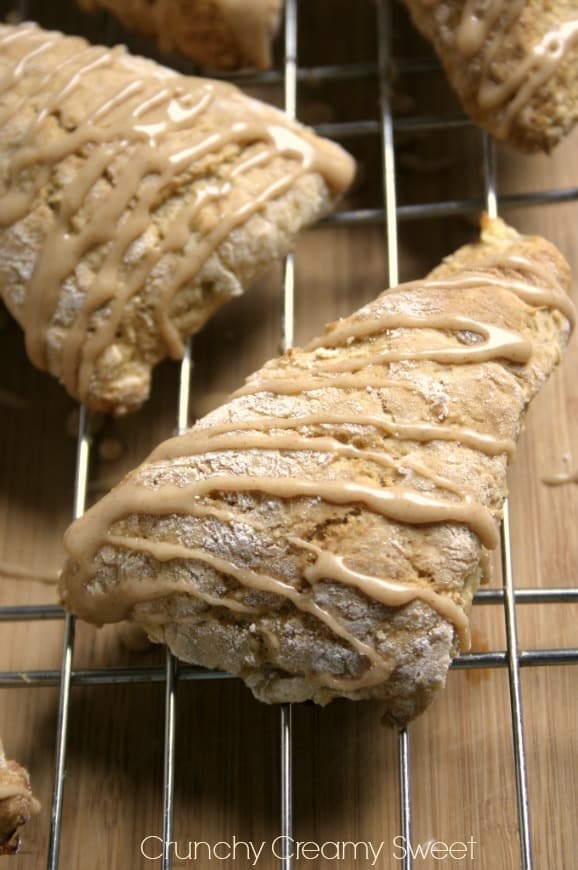 RecipeGirl Cookbook