DIY Room Decor: Galaxy in a Jar - easy and fun project you can make with a jar, paint and cotton balls. Great decoration for your desk or side table!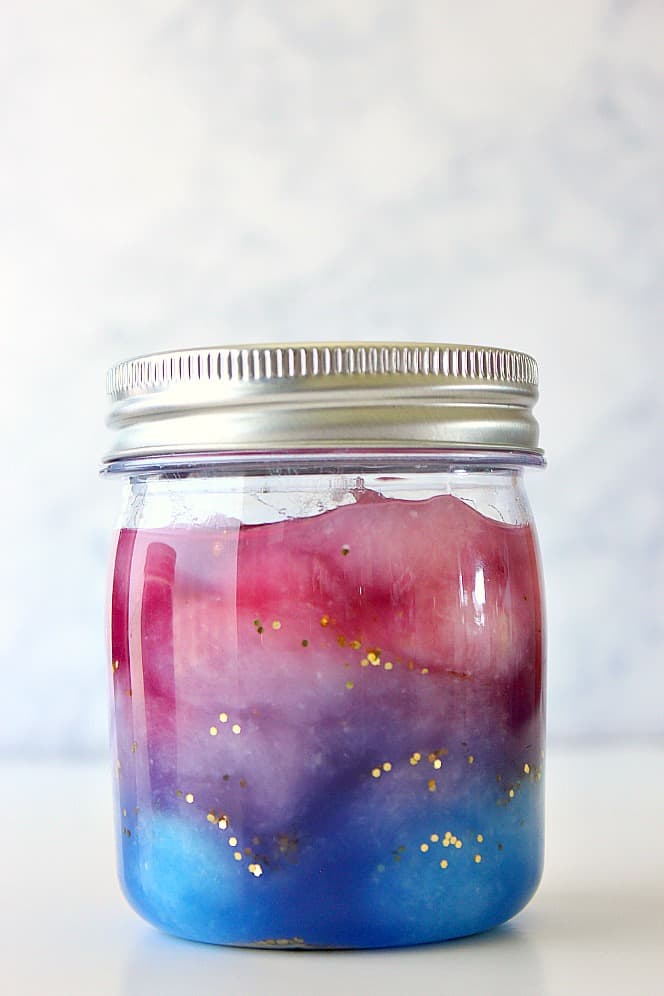 Galaxy crafts and DIY's all insanely popular right now! We are jumping on the trend and today, we will show you how to make a gorgeous Galaxy aka Nebula in a Jar! Make sure to watch our video to see how to make it!
This Galaxy in a Jar DIY is a trendy yet super easy room decor idea you can make in under 20 minutes. Display it on your desk, shelf or a side table. You can go for all purple color or make it gradient like we did.
HOW TO MAKE GALAXY IN A JAR?
To make Galaxy in a Jar, you will need a jar. You can use plastic 4 oz. jars or glass jars. You can also use tiny glass jars with a cork stopper. Next, grab some cotton balls to create clouds. They will also keep the colors from mixing into one. Galaxy is usually purple or different shades of purple. You don't need purple pain to make it, just a basic set of paints and simply mix red and blue to create the desired shade of purple. Layer the colors as shown in our video. You will also need glitter to make stars. The finest, the better but you can use what you have on hand. Glittery, shiny paint is also great! Add as much or as little as you like. And remember to have FUN!
Watch our video below to see how to make it!
GALAXY IN A JAR ROOM DECOR DIY VIDEO:
WHAT YOU NEED FOR THIS PROJECT:
plastic or glass jar (any size)
cotton balls (the amount depends on the size of your jar)
red and blue washable tempera paint
glitter (the finest, the better)
plastic or wooden spoon to mix
MORE GALAXY DECOR IDEAS:
Galaxy Color Blocked Marble Coasters from A Kailo Chic Life
Galaxy Slime by Hayley Williams on YouTube
Follow us on Pinterest and YouTube for my DIY and craft ideas! Let us know what you think about fun Galaxy in a Jar decoration, in the comments below!