Tzatziki Flatbread Pizza makes for a great lunch during hot summer days and it comes together in just 30 minutes.
This is our favorite lunch of late. Flatbread with tzatziki spread and cucumber slices.
Let's start with the flatbread. I have been meaning to share this recipe for so long now and it's finally happening. I think you guys will love it! Just like we do. It comes together in one bowl, there is no yeast involved and it bakes up perfectly to a crunchy base for the toppings. You know how some flatbread recipes will make cardboard-like slab that's hard as a rock? Well, not this one. It's perfect on the thickness and the crispiness. It is the best flatbread I've ever had! And because there is no yeast in the dough, there is no rising time. Which means you can really save time with this recipe!
My other secret to this flatbread is a 13" pizza stone. If you love pizza and flatbreads, you have to have it! No more soggy crusts! Just baked to perfection!
My Hubby and I love Greek food. Especially dishes that involve the famous tzatziki sauce. We could eat it with a spoon. I mixed cream cheese with Greek yogurt (you can use sour cream), mixed in some spices and spread it all over the baked flatbread.
Cucumber - the most refreshing of all veggies. And so perfect for summer dishes. I find myself adding it a lot to sandwiches for added crunch and flavor.
So we have crispy flatbread, creamy tzatziki spread and cool cucumber slices. Talk about perfect summer lunch!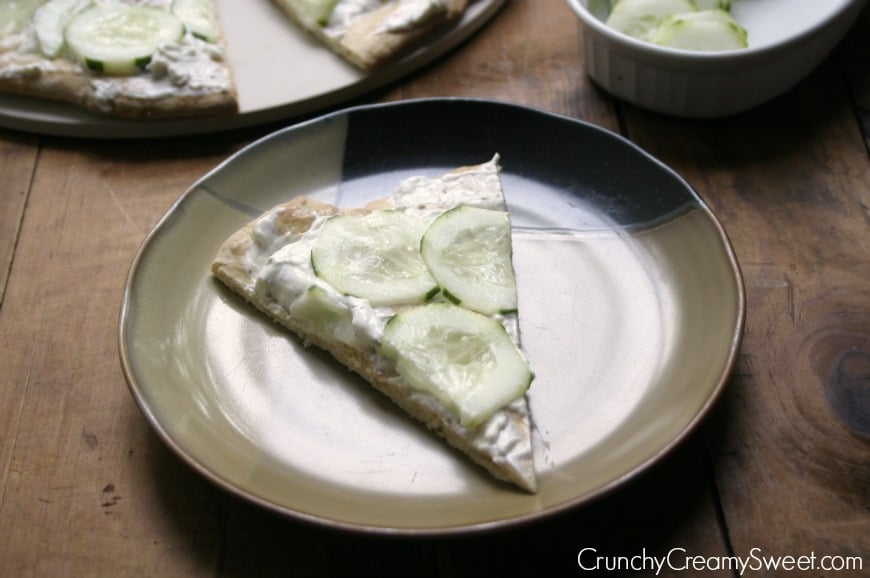 Want to turn it all into a dinner? Add chopped tomatoes, torn lettuce leaves, chopped olives and chopped grilled chicken and you have one amazing pizza dinner! In a matter of 30 minutes you can have a fabulous lunch on the table. One minus to it all: it will disappear in 30 seconds. It is so good!!
Tzatziki Flatbread Pizza
The best and easiest flatbread pizza you will ever make and eat! It comes together in one bowl, involves no yeast, there is no rising time so you can enjoy it in just 30 minutes!
Ingredients
1 and ¾

cup

all-purpose flour

½

teaspoon

salt

2

teaspoon

baking powder

½

tablespoon

vegetable oil

1

egg yolk

¾

cup

slightly warm water

4

oz.

cream cheese

2

tablespoon

Greek yogurt and sour cream

1

garlic clove

minced

⅛

teaspoon

ground black pepper

½

teaspoon

salt

½

teaspoon

Italian seasoning

1

cucumber

washed, sliced
Instructions
Preheat your oven to 450 degrees F and if you are using a pizza stone place it in the oven now.

If you are using a pizza pan, slightly grease it and set aside.

In a large mixing bowl, whisk together flour, salt and baking powder.

Add oil and yolk and stir in with a wooden spoon.

Slowly drizzle in the water, stirring constantly.

Transfer the dough onto a lightly floured surface and knead few times until it's smooth. Roll it out into a 12 to 13" circle.

Place the flatbread on your prepared pizza pan or the preheated pizza stone (be careful not to burn your hands).

Bake for 20 to 23 minutes or until the edges are golden brown and the top has browned spots.

Remove from the oven. Let cool while you prepare the filling.

Place all ingredients in a medium mixing bowl and mix well until smooth.

Spread on baked flatbread.

Top with sliced cucumber.

Slice the flatbread and serve immediately.
Nutrition
Calories:
114
kcal
|
Carbohydrates:
3
g
|
Protein:
2
g
|
Fat:
10
g
|
Saturated Fat:
5
g
|
Cholesterol:
64
mg
|
Sodium:
546
mg
|
Potassium:
323
mg
|
Sugar:
1
g
|
Vitamin A:
400
IU
|
Vitamin C:
2.1
mg
|
Calcium:
131
mg
|
Iron:
0.5
mg
The original recipe for the flatbread comes from Gourmet magazine. I saw someone (don't remember who) recommended adding egg yolk to the dough and I have to say I prefer it this way.