Turkey Meatballs with Garlic Spaghetti recipe - this gluten free, guilt free comfort food
is packed with so much flavor, you won't believe it's healthy!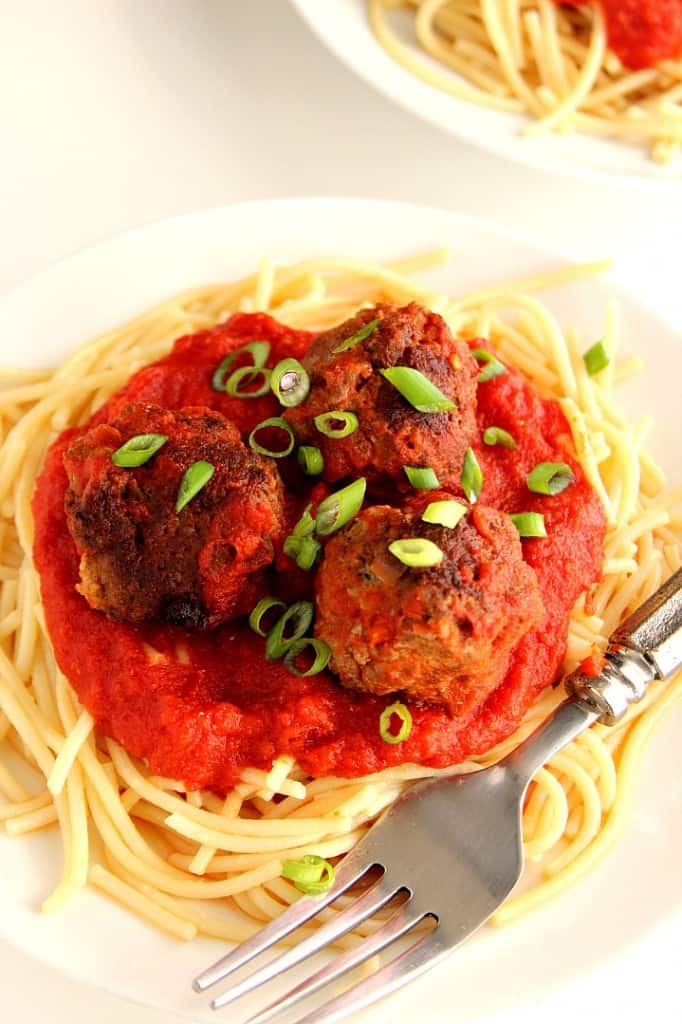 Today I am back with another recipe with Ronzoni Gluten Free® pasta. After a veggie pasta dinner recipe, it was time for a meaty one, yet still a healthier option for us pasta lovers. Spaghetti and meatballs get a gluten-free and skinny makeover with turkey meatballs (without bread crumbs and egg), simple homemade pasta sauce and gluten free spaghetti. Easy ingredients yet so much flavor, you will be reaching for seconds!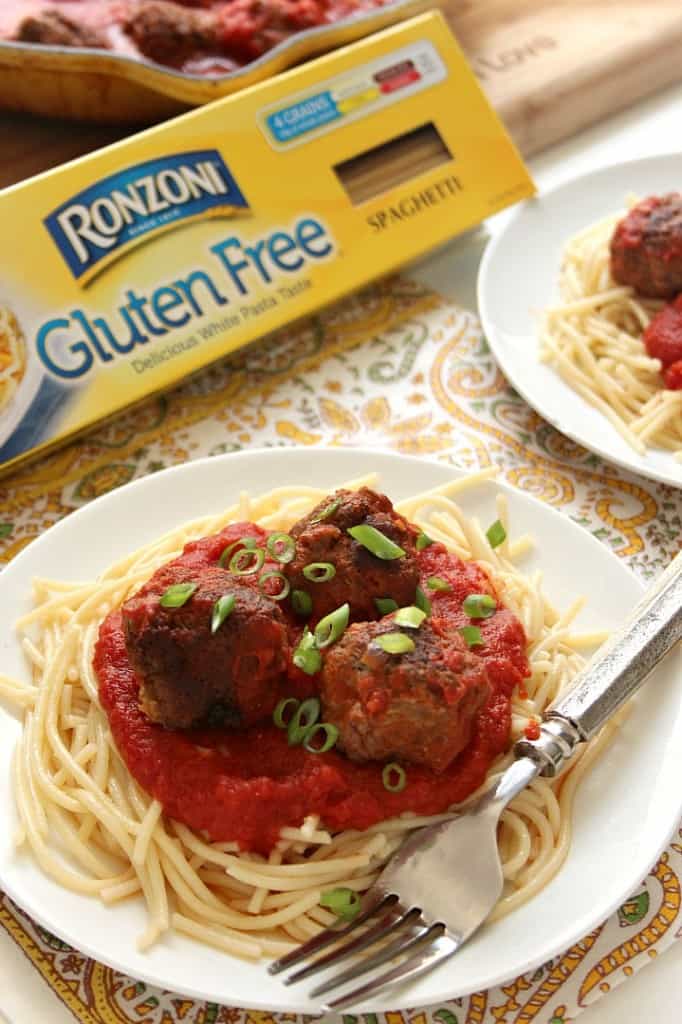 Ronzoni Gluten Free® pasta comes in 5 shapes: elbows, penne, rotini, spaghetti and thin spaghetti. I mentioned before how much I love this pasta! It cooks fast, tastes just like white pasta and it's gluten-free. I've recommended it to all of my GF and non-GF friends and they agree - this pasta is delicious! Made of a 4-grain blend of white rice, brown rice, corn and quinoa this pasta has 19 grams of whole grains per serving. I've tried it in pretty much all of our favorite pasta dinner recipes and it wins every time. It is certified gluten-free and made in a dedicated gluten-free facility in the U.S.
When cooking gluten free pasta, it is recommended to use the amount of water specified on the box, stirring the pasta often during cooking and rinsing it with warm water. It is also recommended, and I do it every single time I cook pasta, to stir in olive oil after rinsing and draining it.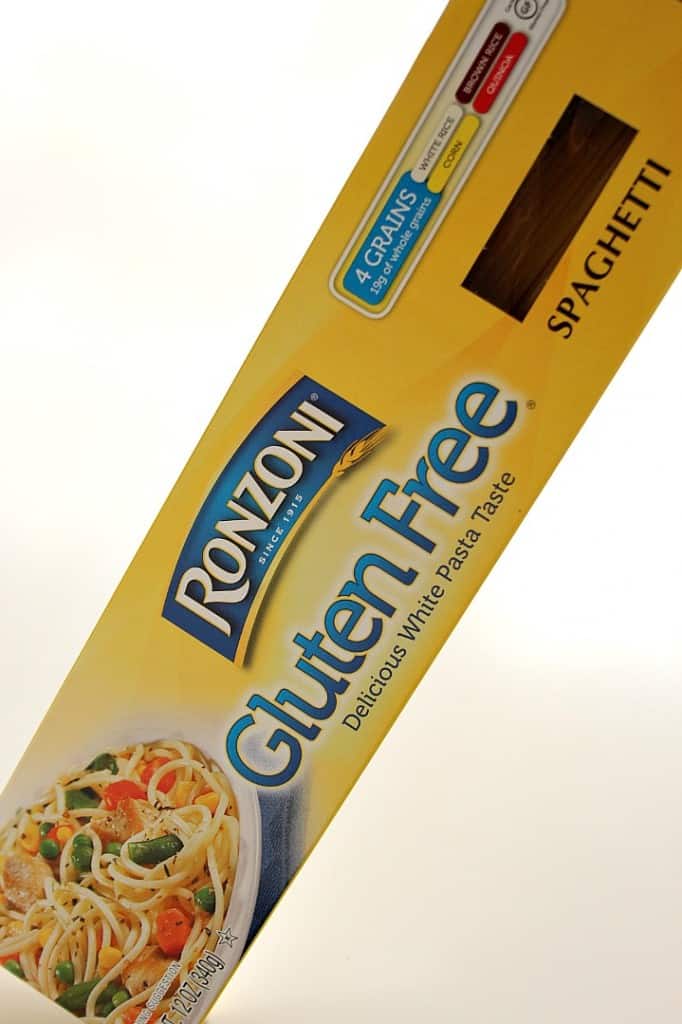 I love creating healthier versions of our favorite comfort foods for the obvious reasons but it is also really fun to cook a meal that looks like pure indulgence. For this recipe I used Ronzoni Gluten Free® Spaghetti. To add even more flavor to the dish, I combined melted butter with minced fresh garlic and stir it into the pasta right after draining it. Best.idea.ever.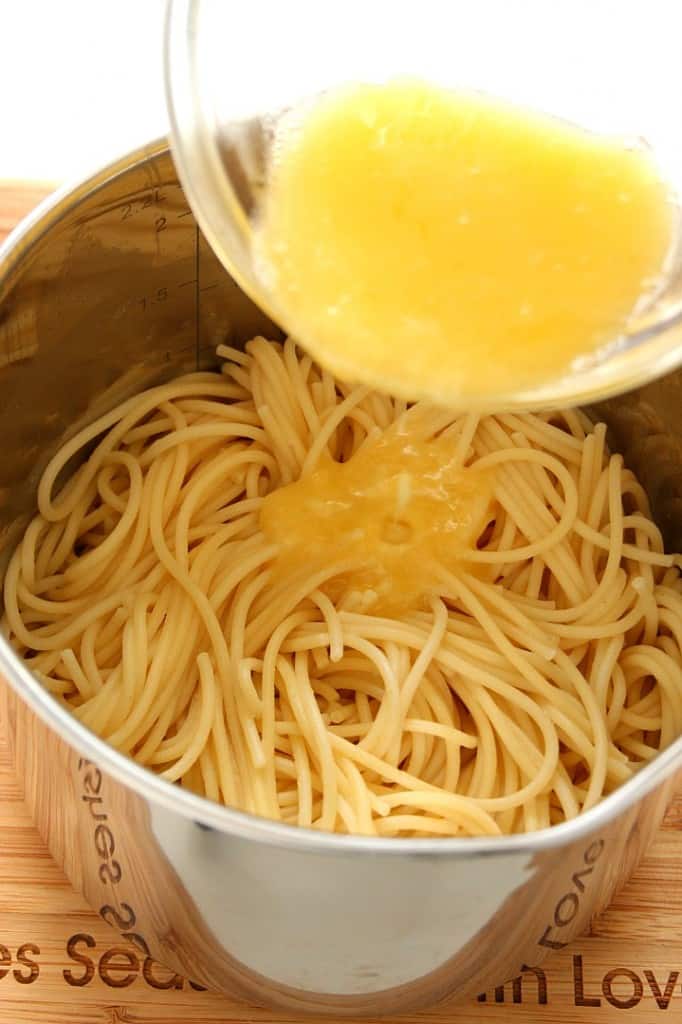 Gentle toss and the pasta is fragrant with garlic and tastes buttery and delicious.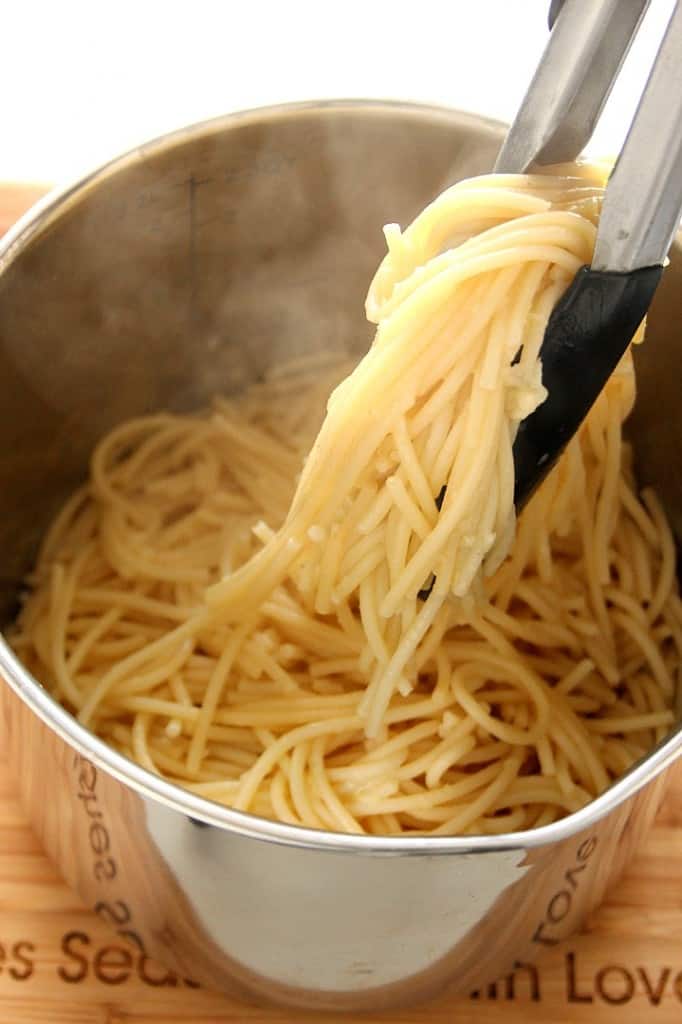 Since we are using gluten free pasta, it is an obvious choice to make gluten free meatballs and sauce to go with it. If you ever wondered if you could make turkey meatballs packed with flavor yet without breadcrumbs and egg - I am here to tell you yes, yes you can! These meatballs are juicy and flavorful. I added fresh garlic, red onion, oregano, salt, pepper and paprika to the ground turkey and mixed it all together. Then, using a medium size cookie scoop (1 and 1/2 tablespoon size) I scooped the mixture into balls and browned on all sides in a skillet. The sauce is simply crushed tomatoes that you pour over the meatballs, add a sprinkle of salt and black pepper and let the mixture simmer for 10 minutes to finish cooking the meatballs. After that, it's time to plate and dig in!
PIN THIS RECIPE TO YOUR DINNER PINTEREST BOARD.