Lemon Garlic Tuna Cakes Recipe – the best and easy patties made with canned tuna, lemon juice and zest, garlic, onion, breadcrumbs, eggs, mayo and shredded Parmesan. Quick and delicious tuna cakes for lunch or light dinner!
You can serve these cakes as appetizers or dinner, like my Crispy Parmesan Tilapia of Parmesan Crusted Salmon.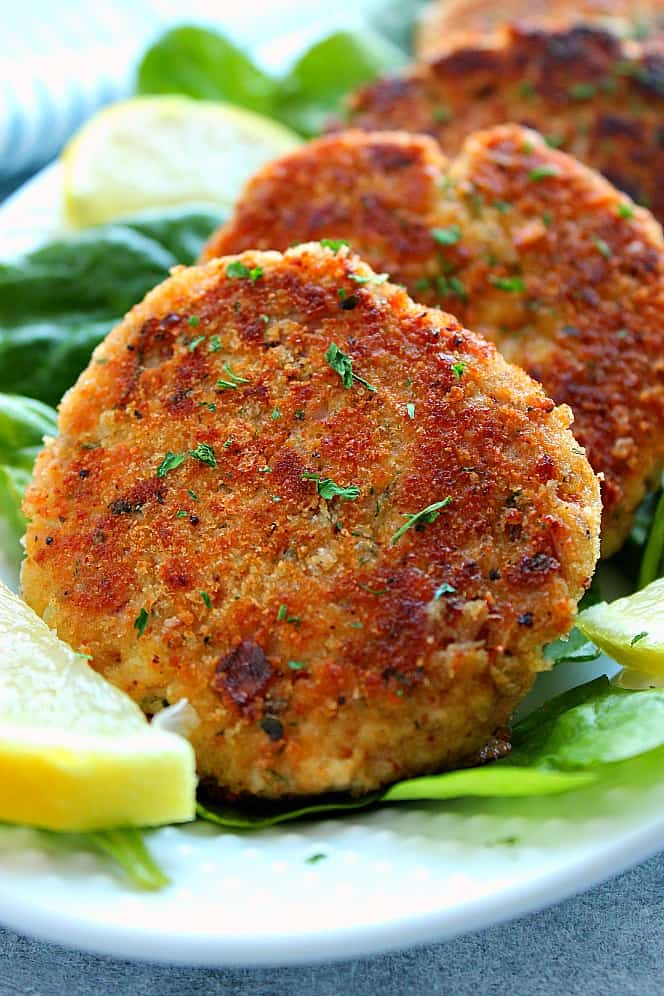 I am all about easy lunches and light dinners but only if they have lots of flavor. The garlic lemon combo is definitely one of my favorites to use. My Creamy Lemon Garlic Chicken is so delicious, I wanted to make another dish with this flavor pair. I  know it works great with vegetables, like my Lemon Garlic Roasted Potatoes. This time, I added it to my best easy tuna cakes. They were a huge hit! Best tuna cakes I've ever made!
LEMON GARLIC TUNA CAKES
These Lemon Garlic Tuna Cakes can be made ahead of time or even frozen after frying. They are a great option for a delicious lunch or a light dinner. Serve with tartar sauce, simple aioli or in a sandwich. The combination of garlic and lemon gives these tuna cakes plenty of flavor. Coating lightly in breading before frying makes them moist inside and crispy on the outside.