Instant Pot Garlic Parmesan Corn on the Cob Recipe – the best and the fastest method to cook corn on the cob. Brushed with garlic Parmesan butter, this corn on the cob is the perfect summer side dish!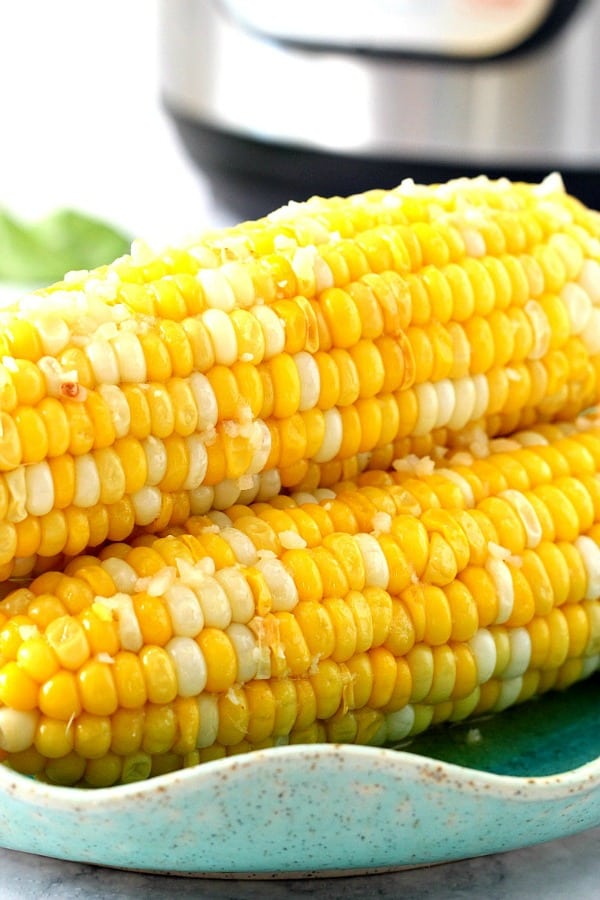 INSTANT POT CORN ON THE COB
I am super excited to share today's recipe with you. First, because I can talk again about my obsession with the Instant Pot and second, because I now have the best and the fastest method to cook corn on the cob this summer. We live in Kansas and corn on the cob is pretty much a must for all weekend dinners, especially when BBQ or grilling is involved. Cooking it in the Instant Pot is completely hands-off, as all I have to do is place the corn in my Instant Pot and set it for… wait for it… 2 minutes! It comes our perfectly done and ready to be brushed with flavor butters!
The first time I made this recipe, I couldn't believe how fast the corn cooked and how perfect it was! My Hubby agrees! No more boiling on the stove in the largest pot I have, no tricks with coolers and hot water and waiting and waiting. Just set it and let the Instant Pot work.
I told you I am obsessed with my Instant Pot! You can read my Instant Pot Beginners Guide for more info.
[Read more…] about Instant Pot Garlic Parmesan Corn on the Cob Recipe