Coconut Pineapple Cake Recipe – sweet and delicious coconut cake with light and fluffy whipped pineapple frosting! Perfect Summer dessert!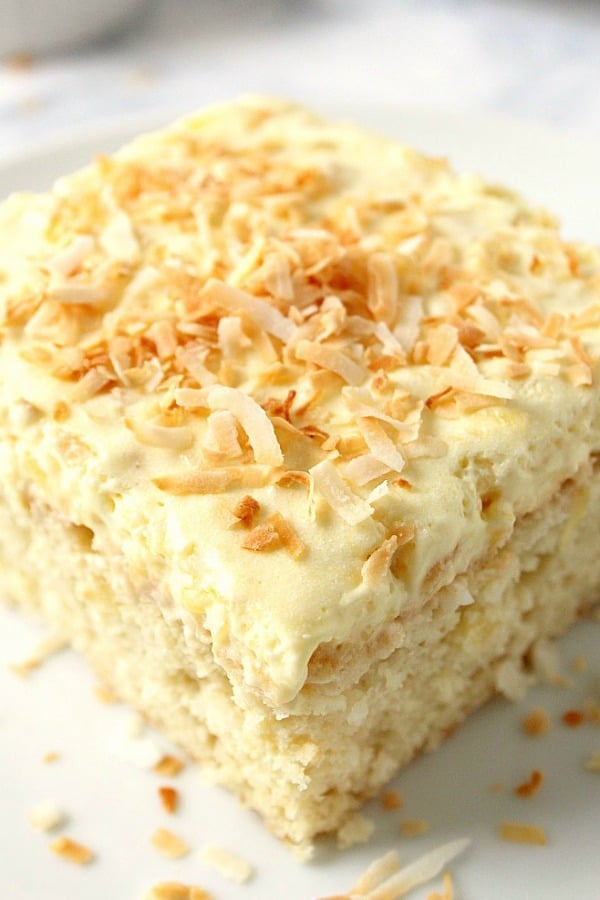 Pineapple and coconut combo is one of my very favorites when it comes to Summer desserts. It just screams vacation to me! Pina Coladas are the summer drink for a reason. Nothing beats that flavor combo on a hot summer day, whether you are on the beach or your own backyard. Your next summer soiree, party or BBQ cook-out is the perfect occasion to make this cake.
COCONUT PINEAPPLE CAKE
The coconut cake has a tender crumb and melts in your mouth, all thanks to buttermilk which is my favorite to use in cakes. The frosting is my favorite frosting recipe ever! Forget the overly sweet vanilla frosting from the store or even the homemade buttercream (yes, I said that!)! This frosting is made from just 3 ingredients stirred together; it's light, creamy and irresistible!