Chicken Pot Pie Skillet Pasta Recipe – quick and easy weeknight dinner idea! Pure comfort food and so much easier to make then a pie.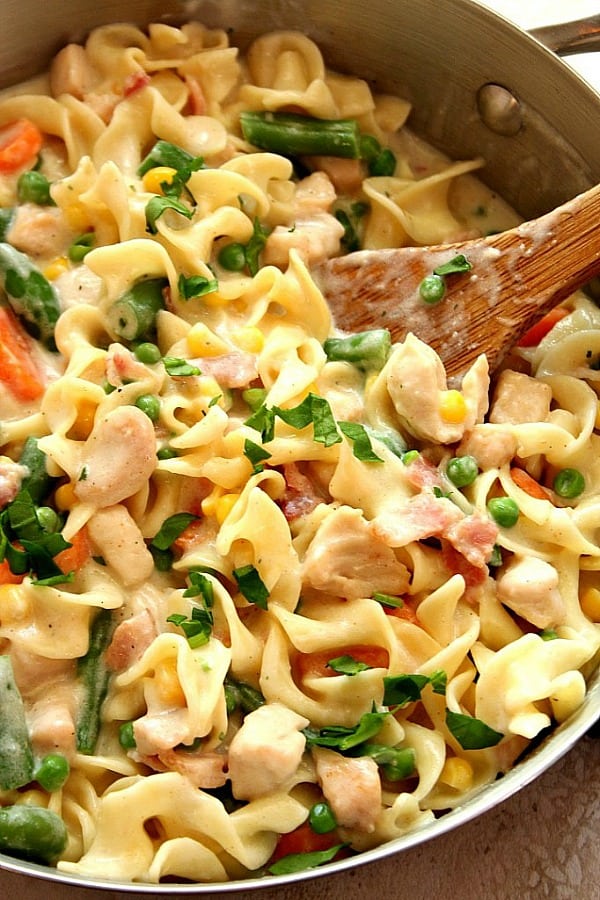 When it comes to comfort food, one of my family's favorite dinners is chicken pot pie. But here is the thing: I am not a pie maker. I've said it before. I am too much of a perfectionist to attempt making a pretty crust. And the chicken pot pie? It has a double one. So yeah, not happening. But what I can do, is a skillet pasta version of the pie. Heck, yeah! Creamy, delicious dish with wide noodles, chicken, peas, sweet corn, carrots and green beans, all served with oyster crackers.
CHICKEN POT PIE PASTA
Chicken Pot Pie Skillet Pasta is now one of those dinners that I can make in my sleep. It's easy, it has all of the flavors of the classic and I can make it in 30 minutes. Try my Chicken Pot Pie Soup as well. It's pure comfort food!
Oh, and did I mention the BACON? Because there is bacon!