Rice Krispies Pirate Treasure Chest – easy step by step instructions to make a pirate chest our of rice krispies treats, filled with popcorn and fruit leather map. Really easy food craft for a pirate theme birthday party!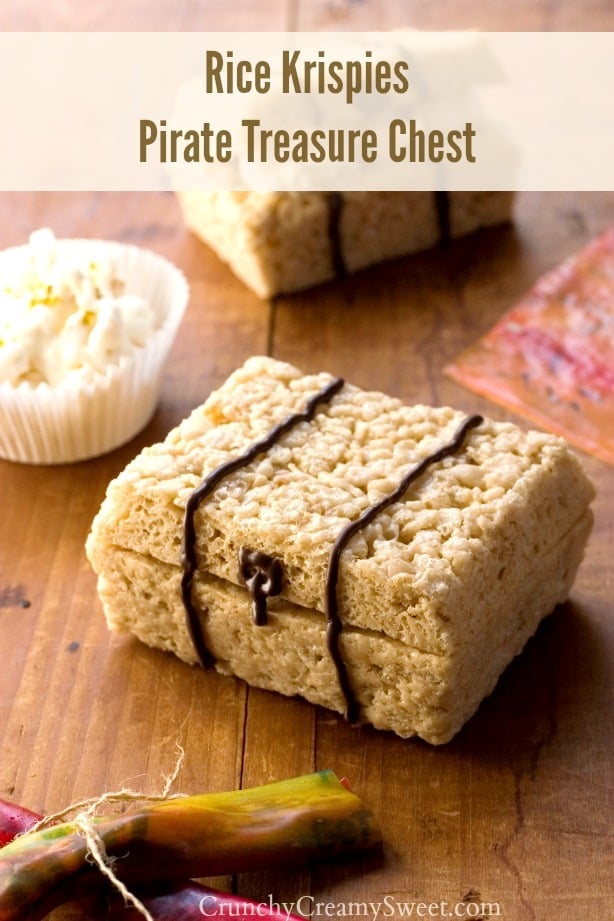 RICE KRISPIES PIRATE TREASURE CHEST
Now that we have a boy, my Hubby is happy to be done with castle cakes and ready to go all in into boy themed cakes and treats. He designs them, I bake and together we assemble the pieces. When I told him that I need to make a party treat in either fairy or pirate theme – he voted for the pirate theme. With both hands. Can you tell he was excited? 🙂 Both of my boys love pirates!
After a little brainstorming, we came up with the idea of using rice krispies treats for two reasons: I have been making RKT's for the last two weeks and they are so easy to cut and stack and eventually build something from them.
Enter Pirate Treasure Chest. You may also like our Halloween treat: Pumpkin Spice Rice Krispies Treats made with pumpkin marshmallows or my holiday fave: Peppermint Rice Krispies Treats. So good!