Roasted Garlic Cauliflower Alfredo Sauce – turn cauliflower into a creamy and delicious sauce with the addition of roasted garlic and Parmesan! Skip the cheese for a vegan option! Check out our VIDEO to see how to make it!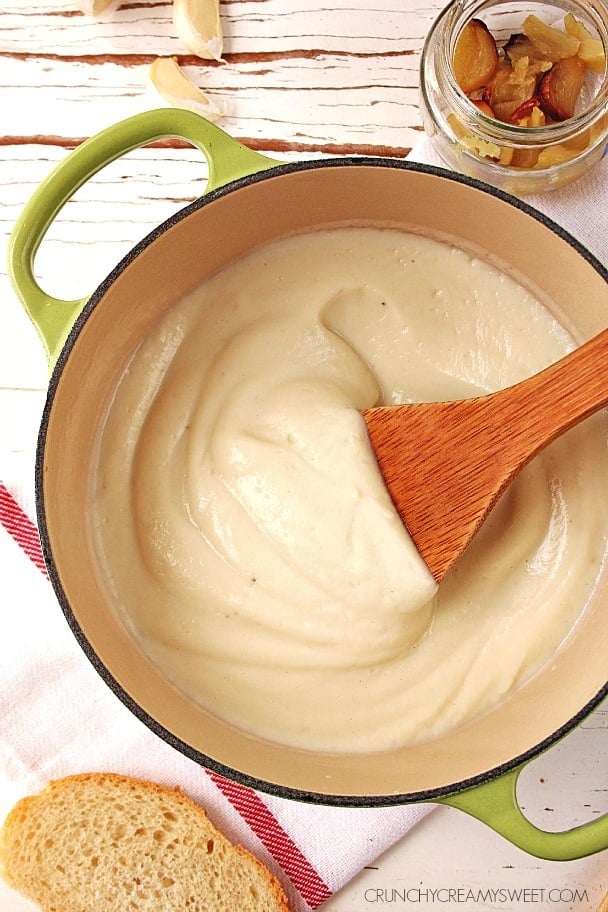 CAULIFLOWER ALFREDO SAUCE
One of my Hubby's favorite pasta dishes is Chicken Alfredo. The creamy garlic Parmesan sauce with chicken and linguine is pure comfort food. This summer, I have been working on lighting up our favorite dishes and incorporating healthier options into our menu every day. Hello, green smoothies! I make my Homemade Alfredo Sauce almost every week.
This sauce is a combination of two veggies I absolutely love: cauliflower and garlic. I grew up eating a lot of cauliflower. My Mom had a collection of recipes using this veggie and made them a lot. The smell of sauteed garlic is my childhood memory since my grandmother used it in almost every dish. I always have a jar of minced garlic in my fridge and now, roasted garlic cloves too.