These P. F. Chang's Chicken Lettuce Wraps are made of ground chicken cooked in Asian hoisin sauce and served on lettuce cups. Make this copycat recipe of a popular restaurant favorite in your own kitchen!
Skip takeout and make an easy Asian dinner at home. These lettuce wraps are easy, just like my Skinny Orange Chicken or Sweet and Sour Chicken.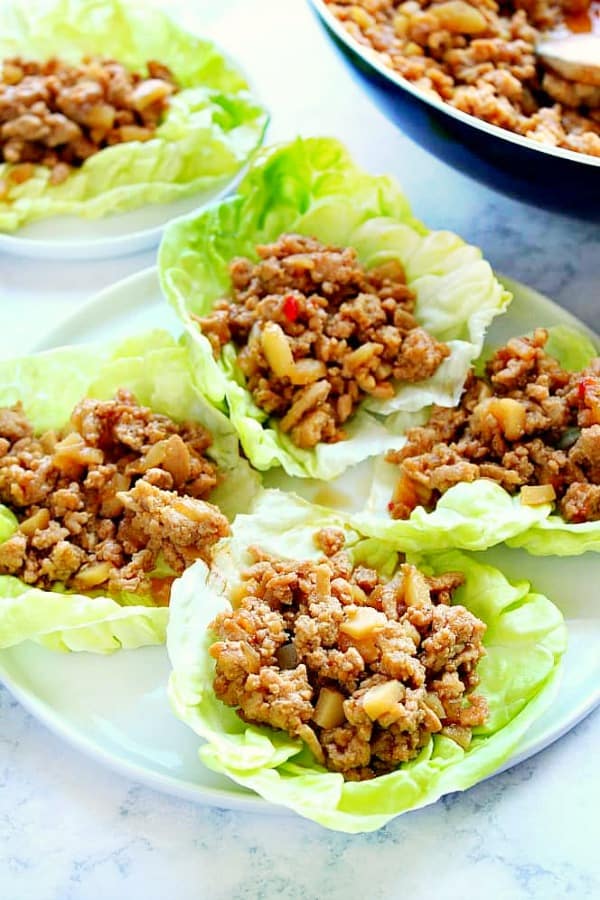 Over the years, I acquired quite the collection of copycat recipes of our favorite restaurant meals. I absolutely love recreating our favorites and adding them to our weekly menu. These Chicken Lettuce Wraps that are a copycat of P. F. Chang's restaurant, are one of them. This popular dish is one of the easiest to make and also very versatile. Lettuce wraps can be made with any filling you like and any lettuce you like. For this recipe, I used ground chicken (that you can easily make at home from a boneless skinless chicken breast) that's cooked in a sauce with all the Asian flavors you love.