Glazed Cranberry Sweet Bread – buttermilk sweet bread studded with fresh and juicy cranberries, finished up with a sweet cream glaze. My favorite sweet bread for the holidays!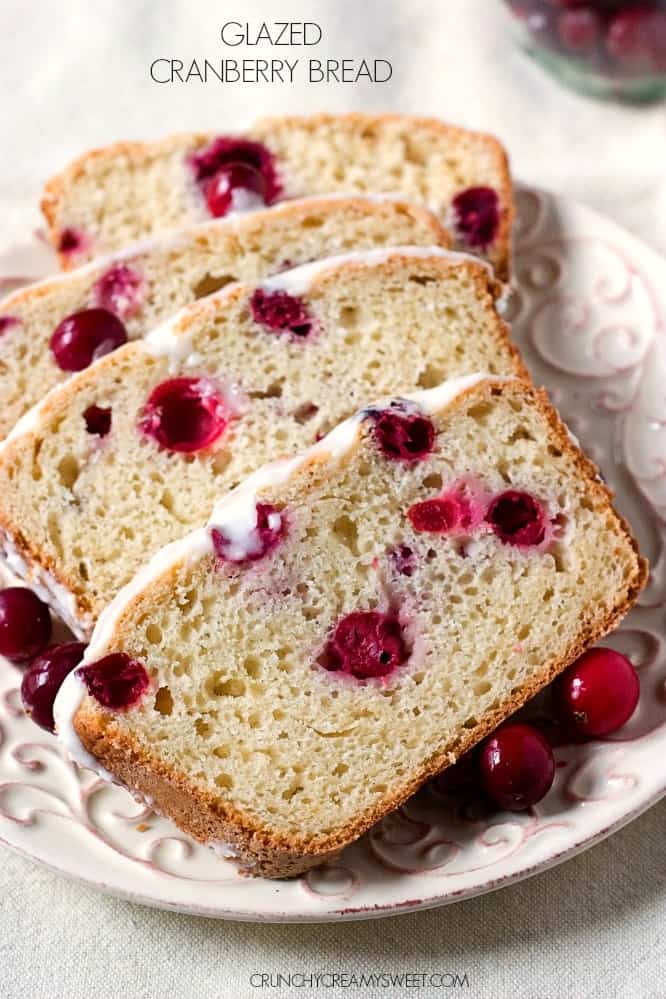 This past weekend we got our first snowfall of this season. Guess who was the most excited? Yep, our kids. I was holding on tight to my mug, filled with steaming hot lemon tea. I realized that winter is upon us and there is no escaping the cold weather. Honestly, I am not sure where did the time go. I was just enjoying the warm fall days and all of a sudden, there are 30's in the forecast for this whole week. I've been so busy (lots going on here, behind the scenes) and BAM! We are in the middle of November.
Considering it all, I proceeded to bake this bread. Sweet breads are one of my favorite things to bake on chilly days and also there are cranberries involved. If you have been reading CCS for some time, you know that I LOVE cranberries. I can never just buy one bag. I always stock up. My Fresh Cranberry Muffins and this easy Cranberry Bread are family favorites. This Glazed Cranberry Bread is always so festive. It practically just screams holidays! It's delicious to snack on along a steaming hot latte or tea or fantastic to make and gift to friends and family. It's soft and moist. It's finished up with a sweet cream glaze. I love baking with fresh cranberries and the tartness they add to breads, cakes, muffins. The sweet cream glaze pairs with them perfectly, balancing the flavors of sweet and tarty.