Caramel Swirl Pumpkin Cheesecake Bars – sweet and creamy cheesecake bars with pumpkin, spice and caramel swirl! A must make dessert this season!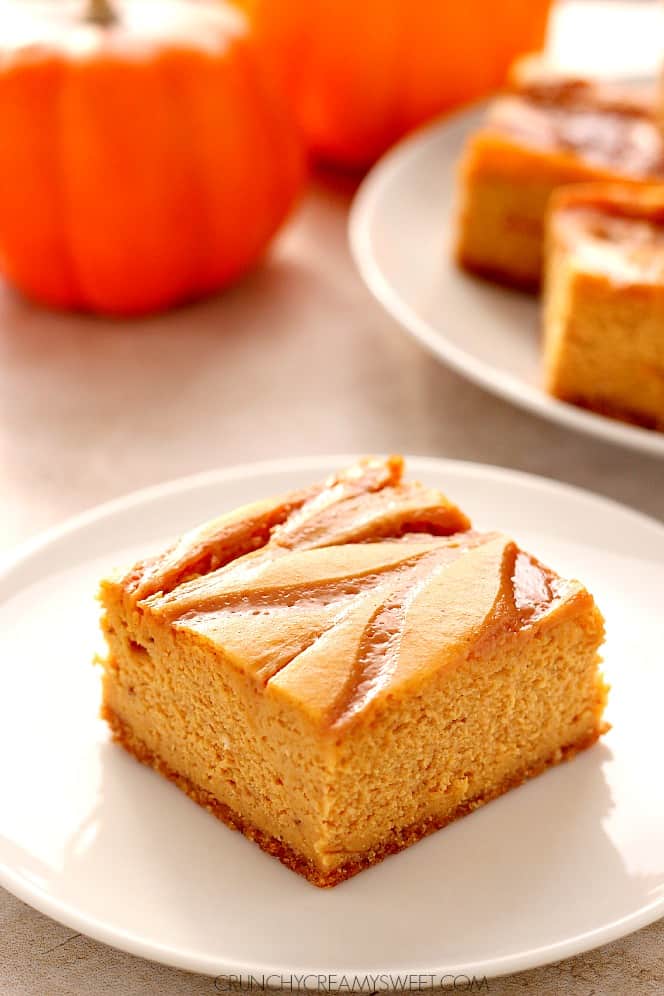 Recently, I have been obsessed with everything fall. Sweaters, boots, home decor, even makeup! Nail polish is one of the first things I like to change when new season arrives. I went from bright coral to deep mauve and love it! My daughter and I even got a little crafty and made orange ombre vase from a Mason jar. It's currently in the middle of our dinning table and filled with fall flowers brought by my Hubby. We also have pumpkins of all sizes here and there and I am on a hunt for pine cones to fill my decor bowls. Fall is our favorite season of them all and we always try to enjoy it as much as possible!
That's why, every year, on the first Sunday of October, we celebrate our Annual Family Day. We have been doing it for 9 years now. Each year the kids get more involved and this year our little boy is totally aware of it and super excited! All three of our kids got to pick their pumpkins that will be carved with their own designs about a week before Halloween. We make a big feast (think Thanksgiving style), watch Charlie Brown and start decorating for Halloween. It's a kick off of the holiday season in our family!