Skinny Fettuccine Alfredo Recipe – healthy version of the restaurant classic. So easy and unbelievably delicious this guilt-free pasta dish is perfect for busy weeknights and special occasions!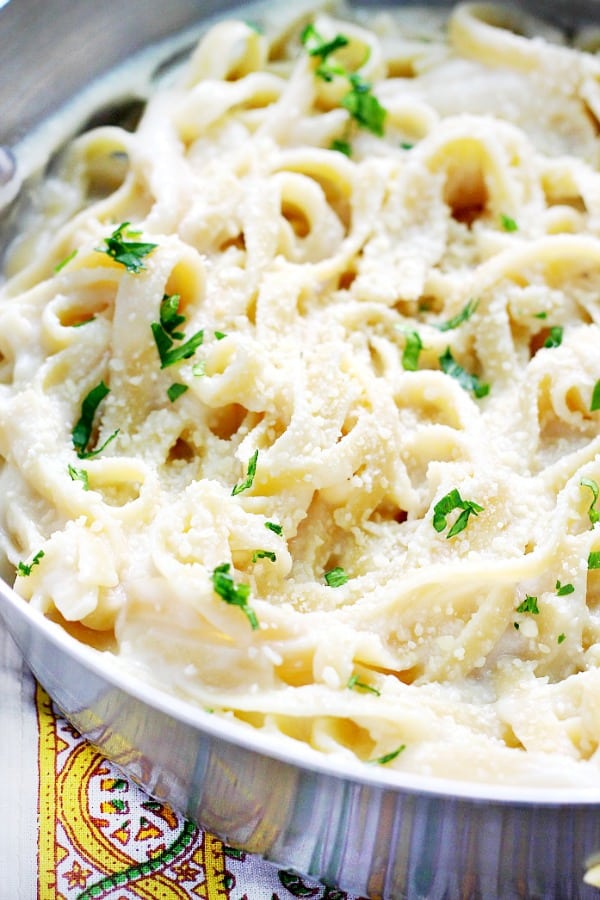 SKINNY FETTUCCINE ALFREDO
Have you seen the newest video on our YouTube channel? It's about one of our most popular recipes: the roasted garlic cauliflower Alfredo sauce! It's crazy how easy this sauce is to make and how absolutely delicious it is. I make is very often and use it in many pasta recipes in place of the store-bought Alfredo sauce. It's creamy and rich yet healthy. We wanted to show you how easy it comes together and what better way than with a video. Since afterward I had a big jar of the sauce, I put it to use and make a skinny version of my Hubby's favorite restaurant dish: the Fettuccine Alfredo. I only had to cook the noodles. If you make the sauce ahead of time that's a big time saver!