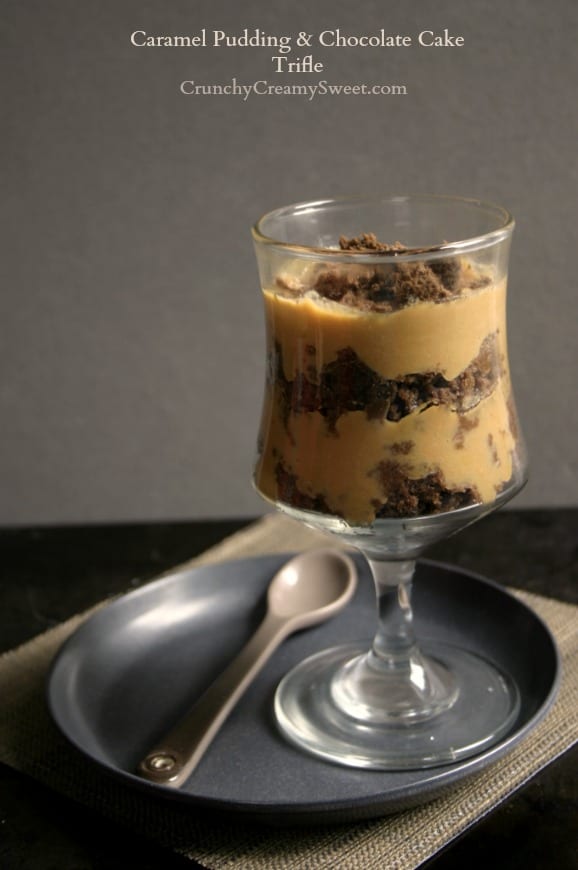 TGIF! It's almost the weekend, my peeps! Time to make something delicious!
Like Salted Caramel Pudding & Chocolate Cake Trifle!
Do you want to know the story behind this dessert? Well, I'll tell you anyways. 🙂
 It all started with a chocolate cake. It was glorious! All beautifully baked in a pan. And then I tried to invert it onto a plate and…. kinda missed it… Not sure what happened there but all of a sudden I had my beautiful cake in pieces. Right in front of me.
I probably didn't breathe for a moment.
So, trying not to cry, yet with a trembling lip, I scooped up the pieces onto a plate. I put it aside and walked away.
How you like my story so far? 🙂 Then wait, it gets better.
I tried to ignore it for a while, but until you actually tried to ignore a chocolate cake broken into pieces, set on a plate, on your counter, just… kinda… starring at you, you have no idea what kind of torture this can be.
I am not sure if it was saying "come on, you can fix this and still turn me into an amazing treat" or  "man, you suck…".
I will go with the first. It is a common knowledge (and if not, I am making it right now), that you use cake pieces to make a trifle. Right? Right.
So a little more thinking (what goes well with chocolate cake…. caramel… okay, caramel….. in what form…. it needs to be creamy…. and easy to layer…. pudding!… okay, caramel pudding… sounds fab!… never made it though…. google to the rescue…. smitten kitchen! oh yes, this should be good…. ) and I was smiling again. 🙂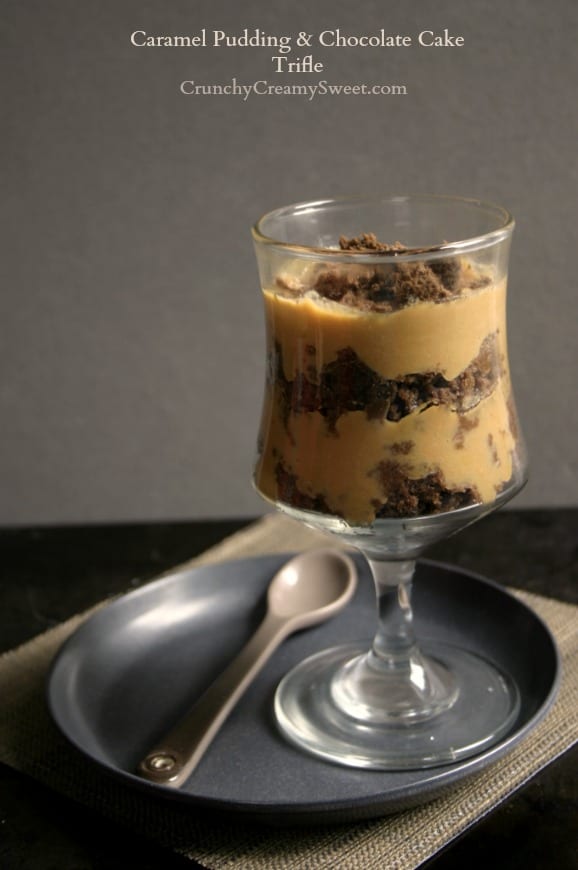 Notes on the pudding:
Just one: make it. You will thank me. Over and out.
Okay, another note: do not walk away while making the caramel. It knows when you are not looking and that's when it will burn. 🙂
Salted Caramel Pudding and Chocolate Cake Trifle
Salted caramel pudding saves the day! Use broken chocolate cake and the pudding to create a fabulous and easy to make dessert. Pudding recipe:
Smitten Kitchen
Ingredients
pieces

chocolate cake

broken into
for the caramel pudding:
1/2

c

granulated sugar

3

Tbsp

water

2

c

milk

3

Tbsp

cornstarch

1

tsp

vanilla

1/8

tsp

salt

1/2

tsp

sea salt
Instructions
to make the caramel pudding:
In a small mixing bowl, whisk together 1/2 c milk, cornstarch, vanilla and 1/8 tsp salt. Set aside.

Have the remaining milk ready in a measuring cup or small bowl.

In a medium saucepan, mix sugar and water and stir few times. Bring to boil over medium heat. Do not stir after boiling. If you need to, swirl it gently by moving the saucepan. Do not leave in unattended. Cook for about 5 to 6 minutes until it turns caramel color.

Remove from the heat. Add sea salt. Slowly add 1 and 1/2 cup of milk. Be careful as it will foam up. The caramel may turn dark but that's okay.

Place back on the stove. Cook to simmer until it thickens.

Gradually whisk in the cornstarch and milk mixture. Cook until it thickens.

Remove from heat and cool for few minutes in the saucepan. Transfer into a small mixing bowl and let cool to room temperature. Cover with saran wrap, making sure the wrap touches the surface of the pudding. Refrigerate until chilled ( 2 hours to overnight).
assembling the trifle:
When ready to serve, place cake pieces on the bottom of your serving dish and top with caramel pudding. Repeat as needed. Serve.
Recipe Notes
The amount of servings depends on how much cake you use for the trifle. I made 4 servings as seen on the picture.
Nutrition Facts
Salted Caramel Pudding and Chocolate Cake Trifle
Amount Per Serving
Calories 197
Calories from Fat 27
% Daily Value*
Fat 3g5%
Cholesterol 12mg4%
Sodium 417mg18%
Potassium 161mg5%
Carbohydrates 36g12%
Protein 3g6%
Vitamin A 200IU4%
Calcium 138mg14%
* Percent Daily Values are based on a 2000 calorie diet.