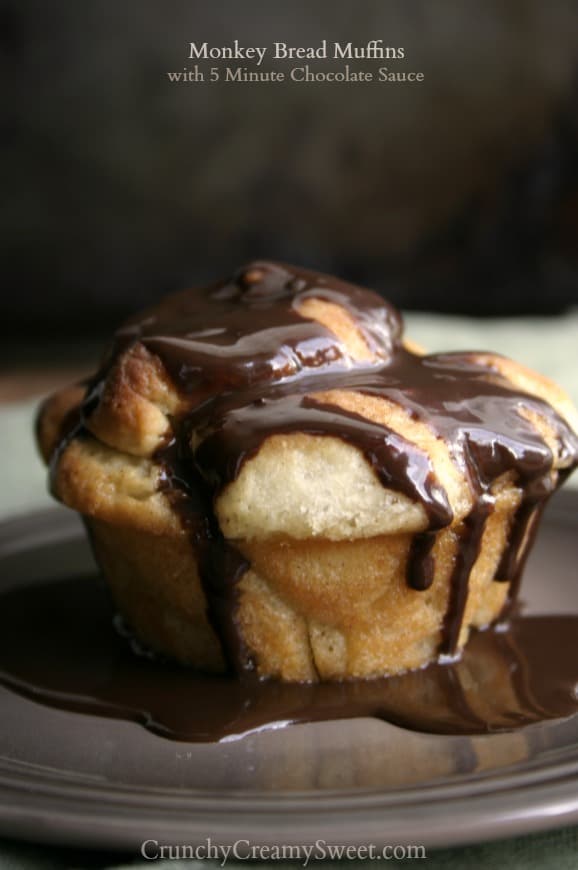 This chocolate sauce drizzle was totally not planned. All I wanted to do is monkey bread muffins for my kiddos. It's been on my to-bake list for a while and as soon as my new supply of yeast arrived, I was whipping up the dough in no time.
I love baking with yeast. There is something about the dough, the technique, the whole process. Over the time I have learned many tricks to make every project involving yeast work.
 These muffins are so fun to make and even more fun to eat! We are talking about rolling little balls of the dough in butter and cinnamon sugar. Each muffin is unique in shape but all are delicious!
I may have had a hard time explaining why is it called monkey bread but we all had a lot of fun making it.
And then I just couldn't help myself but I had to figure out a way to involve chocolate in this whole fun project. Enter my 5 Minute Chocolate Sauce. I don't think I have ever shared it's recipe here on Crunchy Creamy Sweet, but it's my all-time favorite and I have been making it for over a decade now. It always works and most likely you have all the ingredients on hand.
Even my Hubby likes it. And he is not really a chocolate fan. I had to hurry up with shooting the photos because he kept slurping the sauce! 🙂 I highly recommend printing out this sauce recipe. It will come in handy!
Monkey Bread Muffins
Your favorite monkey bread in mini form. Monkey Bread Muffins are not only fun to make but even more fun to eat! Yeast dough recipe:
CrunchyCreamySweet.com
original.
Ingredients
for the monkey bread dough:
1

c

warm milk

about 100 degrees F

½

c

warm water

about 100 degrees F

¼

c

granulated sugar

2 ¼

teaspoon

active dry yeast

I used Red Star brand, 1 packet

2

tablespoon

oil

canola or vegetable

3

c

all-purpose flour
for the sugar coating:
¾

c

unsalted butter

melted

½

c

packed light brown sugar

¼

c

granulated sugar

2

teaspoon

ground cinnamon
Instructions
Preheat your oven to 220 degrees.

Grease a large mixing bowl with a cooking oil. Set aside.

In a large mixing bowl of a stand mixer, combine water, milk and sugar. Stir until sugar dissolves. Sprinkle yeast over the top and stir 3 to 4 times. Let sit until foamy, about 5 minutes.

Turn the mixer (fitted with a dough hook attachment) on on low speed and start adding flour, ½ c at a time. When there is about 1 cup of flour left to be added, pour the oil into the dough and wait till it's all combined and the dough is smoother and shiny.

Add the remaining flour.

Increase the speed to medium and knead the dough until it starts to pull away from the sides of the bowl.

Turn the dough out onto a lightly floured surface. Shape into a ball. Place in greased bowl and cover with a kitchen towel.

By now, your oven should be preheated to 200 degrees. Turn it off. Place the covered bowl with dough in the turned-off oven and close the door. Let rise until it doubles in size, about 30 to 40 minutes.

Remove the bowl with dough from the oven.

Punch down the dough to release the air.

Turn the dough out onto a floured surface. Now you can cut the dough in half and each half in half and so on until you have as many pieces as you can a size of a quarter, or you can simply tear off teaspoon size pieces of the dough from the whole ball. It's fun for the kids to do it that way.

Roll each piece of dough between your palms to form little balls. Dip each ball in melted (cooled to room temperature) butter and shake off the excess. Then roll each piece in cinnamon sugar ad place in muffin pan cavity. Use 5 balls of dough per muffin.

When all cavities are filled, cover the pan with kitchen towel and let sit for 15 to 20 minutes.

Preheat the oven to 350 degrees F.

When muffins have risen and are all puffed up, place the pan in the preheated oven.

bake muffins for 20 to 25 minutes or until golden brown.

Let cool in the pan for 3 to 5 minutes and carefully transfer onto a plate.

Cool to room temperature before drizzling the sauce over the top.
Nutrition
Calories:
319
kcal
|
Carbohydrates:
42
g
|
Protein:
4
g
|
Fat:
14
g
|
Saturated Fat:
7
g
|
Cholesterol:
32
mg
|
Sodium:
14
mg
|
Potassium:
83
mg
|
Fiber:
1
g
|
Sugar:
18
g
|
Vitamin A:
390
IU
|
Calcium:
43
mg
|
Iron:
1.6
mg
 It's so fun to dip the monkey bread muffin pieces in this sauce. Oh, and it's best when still slightly warm. The chocolate flavor comes purely from the cocoa powder so use your favorite. Just don't blame me for licking the bowl clean! 🙂
 Now for the monkey bread muffins recipe. I have my favorite basic yeast dough that I adapt to my needs (savory or sweet) and this is one of it's versions.
The cinnamon sugar mixture coating depends on if you want the muffins sticky or just slightly coated and sugary. I tried both ways and it was hard to favor one over the other. I say, coat the dough pieces generously if you want almost caramel-like sticky coating or just slightly for a sugary crunchy coating. Do not skip it though as it is a binder of all the pieces that create each muffin.