Best Instant Pot Pulled Pork is tender, flavorful and simply perfect. This pulled pork will be one of the best dishes you will make in your Instant Pot!
Jump to:
Why You'll Love This Recipe
My Instant Pot pressure cooker is perfect for BBQ dinners during summer (or any time of year really). I already covered how to make the Instant Pot Hawaiian BBQ Chicken and Instant Pot BBQ Chicken Wings, now it's time for pork. This is the best pulled pork you will ever make in your digital pressure cooker!
It has a perfect texture (not mushy, but with a bite) and flavor thanks to the super simple rub and a generous amount of BBQ sauce. You can pile it up on a bun, use as a topping on baked potatoes or stir in with mac and cheese. It's the best pulled pork ever!
Ingredients: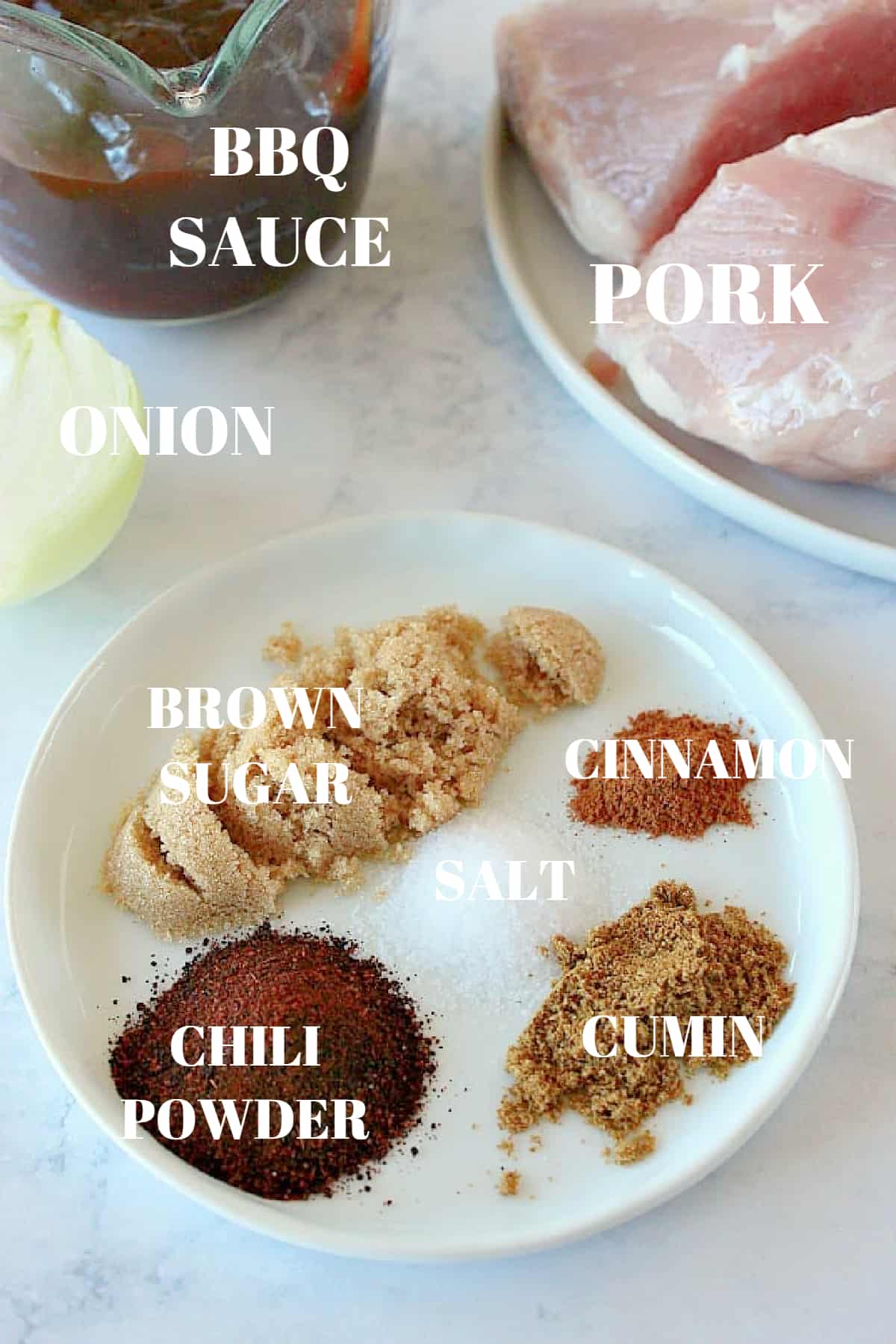 pork: I used a 3lb pork roast, see below for the best cuts of meat for this recipe
BBQ sauce: I used my homemade sauce so use your favorite
simple rub: brown sugar, cinnamon, cumin, chili powder, salt
liquid: water, vegetable stock, or Dr. Pepper soda, necessary for building up pressure
apple cider vinegar: helps tenderize the meat for that perfect pulled texture
sweet onion: adds flavor.
How to make pulled pork in the Instant Pot?
Mix all rub ingredients, rub all over pork and cut it into 4 pieces. Sear each on all sides, remove onto plate.
Deglaze the bottom of the IP pot.
Add liquid, return meat to Instant Pot, cover with BBQ sauce and add onion.
Cover and cook for 45 minutes on HIGH pressure.
Let the pressure release naturally for best results.
Serve with additional BBQ sauce.
The best cut of pork for this recipe:
The cut of meat you choose for this dish will affect the flavor. The fatter the pork, the more flavorful the pulled meat will be. Choose between:
pork shoulder or pork butt (has more fat)
pork loin (leaner meat).
Cooking time:
To cook my 3lb pork roast, I set the timer for 45 minutes and let the IP release pressure naturally. I always recommend natural pressure release for the best tender meat. If your roast is 5 to 6 lbs, increase the cooking time to 55 to 60 minutes.
What to do with leftover pulled pork?
Leftover pulled pork is fantastic for:
tacos,
quesadillas,
topping for creamy mac and cheese,
topping for cheesy baked potatoes (both russet and sweet!),
crisp it up under a broiler and use it for carnitas,
make it ahead and store it for quick and easy meals when you are busy.
Recipe FAQs:
What to serve with this pulled pork?
Go for your favorite BBQ dinner sides: baked potatoes, coleslaw, fries or mac and cheese. I also recommend toasting the buns before loading with the pork. Don't forget a generous amount of your favorite BBQ sauce or try my homemade sauce recipe!
How to store and reheat leftovers?
Any leftovers should be stored in a container, in a fridge, for up to 3 days. To reheat, place the pork in a pan with sauce and heat up. You can also reheat it in a microwave.
Can I freeze it?
Absolutely! Cool pork completely after shredding, then place in a freezer-safe container or a bag and freeze for up to 3 months. Thaw in the fridge, then reheat.
More BBQ recipes:
For more pressure cooker recipes, feel free to browse our Instant Pot category. To learn more about the Instant Pot, check out my Guide for Beginners. If you experienced the "burn" message while using your IP, check out my Instant Pot Burn Message post to learn how to fix the issue and prevent it in the first place.
 If you like this recipe and make it, let me know in the comments below! Don't forget to rate it if you enjoyed it!

Best Instant Pot Pulled Pork recipe
Tender, flavorful and simply perfect. This pulled pork will be one of the best dishes you will make in your Instant Pot!
Ingredients
3

lb

pork roast

1

tablespoon

olive oil

½

sweet onion

chopped

2

cups

BBQ sauce

3

tablespoons

apple cider vinegar

1

cup

water
rub:
1

tablespoon

packed brown sugar

¼

teaspoon

ground cinnamon

½

teaspoon

ground cumin

2

teaspoons

chili powder

½

teaspoon

salt
Instructions
Make sure the stainless steel insert is in your Instant Pot.

In a small bowl, mix the rub ingredients. Rub all over the pork roast. Cut the meat into 4 pieces.

Press "saute" setting on your Instant Pot. Wait 2 minutes, then add olive oil. Place meat in the Instant Pot. Let it sear on each side for 2 to 3 minutes. Remove onto a plate.

Add ¼ cup of water and deglaze the bottom of the pot (with a wooden spoon, scrape any cooked on bits). Add remaining water and apple cider vinegar.

Place pork back in the IP. Sprinkle chopped onion around and between the meat pieces.

Pour BBQ sauce over the meat, do not stir.

Close the lid, set the valve to "sealing" position. Make sure the IP is set to cook on HIGH pressure. Press "manual" setting, set timer to 45 minutes.

The IP will take 12 to 14 minutes to come to pressure. Once the timer is done, press "cancel/off" button and do not touch the valve. Let the IP release the pressure naturally. If you quickly release it, the meat will be tough.

Carefully open the lid away from your face. Remove the meat onto a plate and shred with two forks.

Reserve ½ cup of the liquid from the IP, discard the rest. Pour the sauce over pork just before serving.
Nutrition
Calories:
504
kcal
|
Carbohydrates:
43
g
|
Protein:
51
g
|
Fat:
12
g
|
Saturated Fat:
3
g
|
Cholesterol:
142
mg
|
Sodium:
1300
mg
|
Potassium:
1115
mg
|
Fiber:
1
g
|
Sugar:
35
g
|
Vitamin A:
410
IU
|
Vitamin C:
1.9
mg
|
Calcium:
51
mg
|
Iron:
2.1
mg