Instant Pot Chicken Fajitas Recipe - quick and easy dinner for the busiest weeknights! Simply add all ingredients to your digital pressure cooker, close lid and press the button.
These fajitas are so easy, just like my chicken enchiladas. I like to add my Instant Pot Black Beans to the mix too!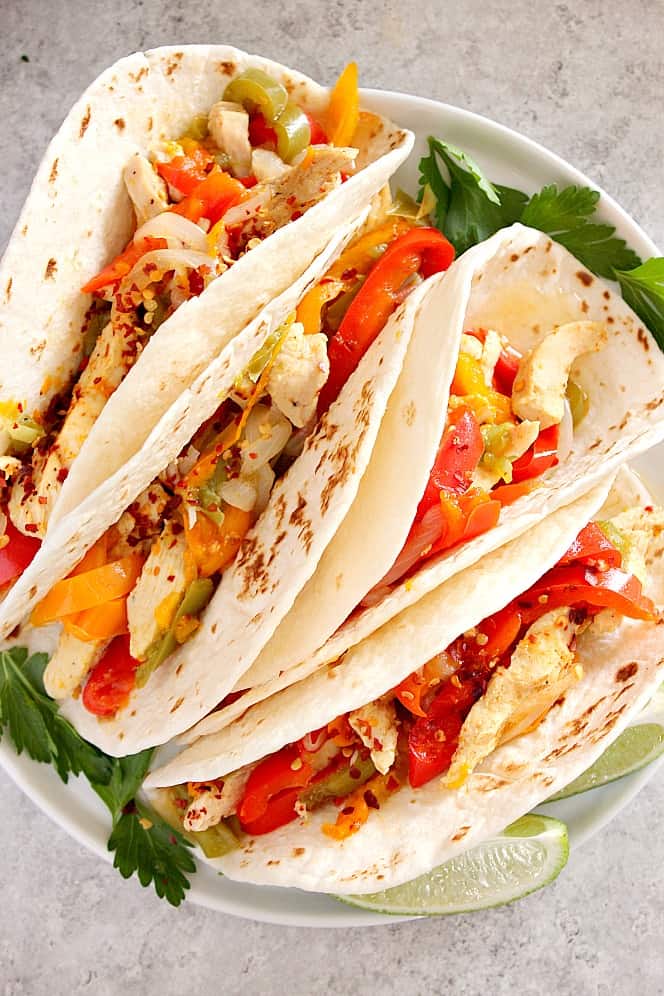 Life has been crazy busy lately and I caught myself too many times recently totally overwhelmed at dinner time. I try to stick to our meal plan but things can change so quickly in our schedules that sometimes I simply fail. To no surprise, my Instant Pot always saves the day. I love the fact that I can simply use just a few ingredients and have dinner ready in no time.
These Instant Pot Chicken Fajitas are one of the fastest dishes I've made in my IP. All you need is chicken, sliced into thin strips, 3 bell peppers, one onion and seasoning mixed with oil and lime juice.
HOW TO MAKE CHICKEN FAJITAS IN INSTANT POT?
Cooking Chicken Fajitas in your Instant Pot digital pressure cooker is as easy as adding the ingredients to the insert, closing the lid and pressing a button. It's so easy!! You can save even more time and prep the chicken and veggies the day before. I like the chicken to keep the shape of stripes so I cook it for 10 minutes. If you want a shredded chicken texture, add 3 to 5 minutes. Also, keep in mind that the peppers will be quite broken down if you cook it longer.
If you have more time, you can saute the chicken for 2 to 3 minutes in olive oil in the IP insert, just before pressure cooking. It will add more texture to the meat.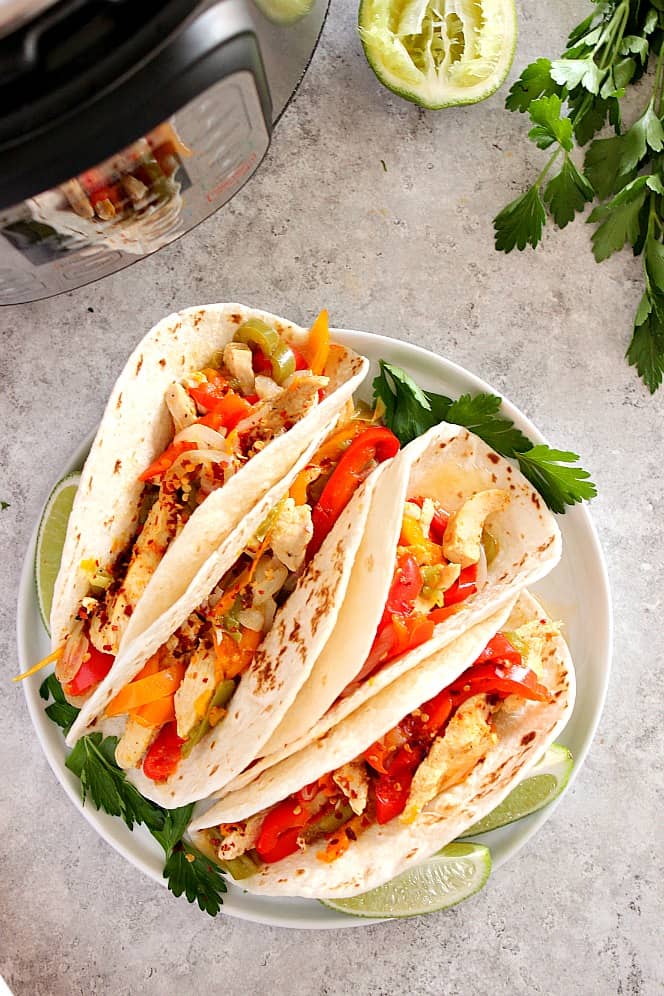 FRESH OF FROZEN CHICKEN?
You can use both to make fajitas in the Instant Pot. That's one of my favorite features of this small appliance: you can use frozen meat! I recommend slicing fresh chicken into strips, as soon as you buy it. Store in ziploc bag, best if you can add the seasoning and oil mixture. Throw it into the IP insert, add veggies and cook for 5 more minutes than if you used the fresh chicken.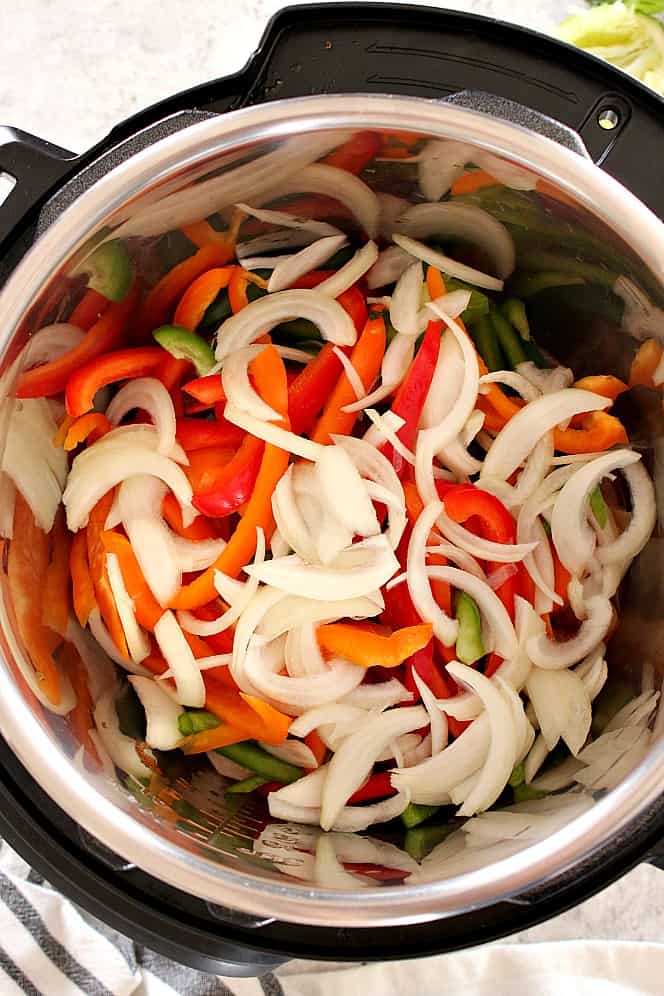 WHAT TO SERVE WITH FAJITAS?
The most common side dishes that I make to serve with fajitas is my Instant Pot Rice. Lately, I've been making my 1-Minute Instant Pot Quinoa and storing it in the fridge so I can serve it instead of rice. You can also make my Black Bean Taco Salad. Don't forget the guacamole and pico de gallo!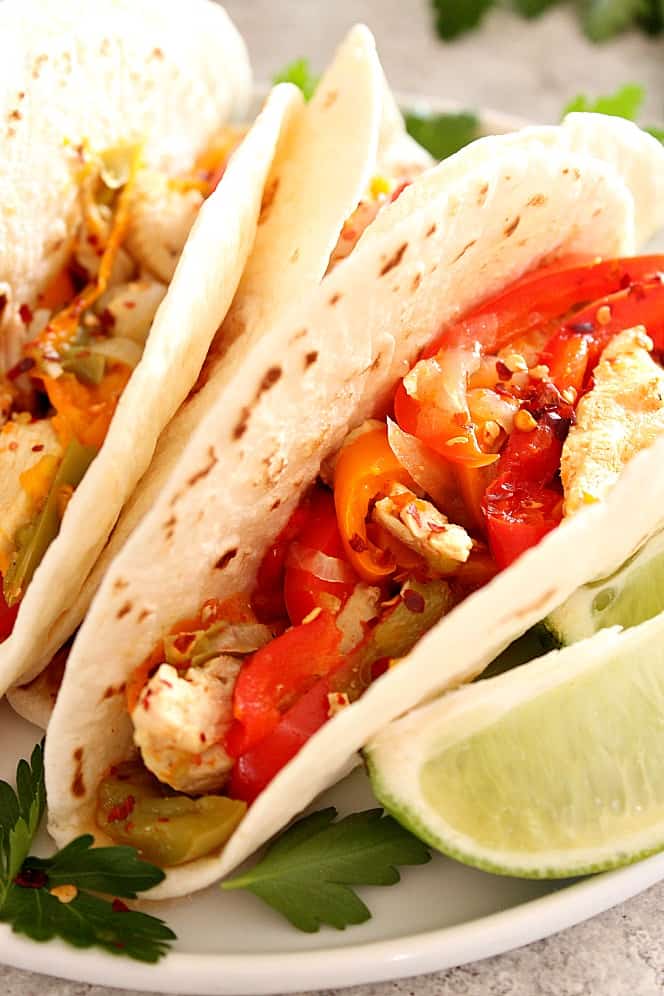 MORE INSTANT POT CHICKEN RECIPES:
Instant Pot Salsa Verde Chicken
–>> Follow me on Pinterest, Facebook and Instagram for latest recipe updates!
If you like this recipe and make it, snap a photo and share it on INSTAGRAM! Tag me @crunchycreamysweet so I can check it out and leave a comment! 😀
Check out my Instant Pot Guide for Beginners, filled with all the info you need to get started with your new appliance!

INSTANT POT CHICKEN FAJITAS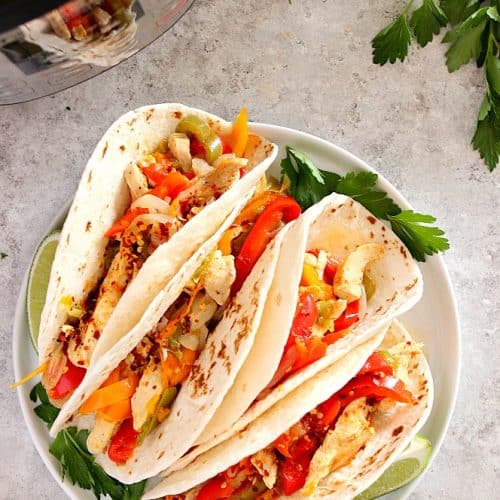 Instant Pot Chicken Fajitas recipe
Quick and easy dinner for the busiest weeknights! Simply add all ingredients to your digital pressure cooker, close lid and press the button.

More Instant Pot recipes:

www.crunchycreamysweet.com
Ingredients
1.5

lbs

chicken breast

1

red bell pepper

1

green bell pepper

1

orange bell pepper

1

medium sweet onion

3

tablespoons

olive oil

½

teaspoon

ground cumin

¼

teaspoon

chili pepper

1.4

teaspoon

ground paprika

¼

teaspoon

salt

⅛

teaspoon

black pepper

2

tablespoons

lime juice
Instructions
In a small bowl, whisk together oil, lime juice, cumin, paprika, salt, pepper and chili pepper.

Make sure the stainless steel insert is in your Instant Pot. Add chicken strips to insert. Pour oil and seasoning mixture over chicken. Gently toss with metal tongs.

Wash, core and thinly slice bell pepper and onion. Layer on top of the chicken.

Add ½ cup of water to insert. Important: please see note.

Close lid, set the valve to "sealing" position. Press "manual" button, make sure the IP is set to high pressure. Adjust timer to 10 minutes. The Instant Pot will beep after few seconds.

When it comes to pressure, it will start the timer.

Once done, the IP will beep. Press "cancel/off" button. Carefully switch the valve to "venting" position and quickly release pressure. When the metal part of valve drops, carefully open the lid away from your face.

Serve chicken and peppers in flour tortillas. Garnish with chopped cilantro (or parsley) and a dash of crushed red peppers.
Notes
This recipe calls for ½ cup of water, as that is manufacturers recommended and required amount of liquid so your IP can come to pressure. I received comments from readers who made this recipe and didn't like the "soupy" texture. To prevent that, you can add the water to the bottom of the pot and set the chicken and veggies on a trivet. You can also remove the chicken and peppers after cooking, set on a baking sheet and broil, like you would for carnitas. 
You can use chicken thighs if that's what you have on hand. I recommend buying the thinly sliced chicken breast (it has way less sodium than the thick breasts) and cutting it into thin strips.
You can add the oil and seasoning mixture along with the sliced chicken to a ziploc bag and freezing or storing in the fridge for up to 2 days before cooking the fajitas.
You can skip the seasoning selection from this recipe and use a packet of fajita or even taco seasoning.
Serve fajitas with rice and black beans.
Nutrition
Calories:
342
kcal
|
Carbohydrates:
12
g
|
Protein:
37
g
|
Fat:
15
g
|
Saturated Fat:
2
g
|
Cholesterol:
108
mg
|
Sodium:
353
mg
|
Potassium:
921
mg
|
Fiber:
2
g
|
Sugar:
7
g
|
Vitamin A:
2370
IU
|
Vitamin C:
108.7
mg
|
Calcium:
28
mg
|
Iron:
1.6
mg