Chocolate Souffles - decadent dessert for the chocolate lovers. It's actually really easy to make and rich in flavor.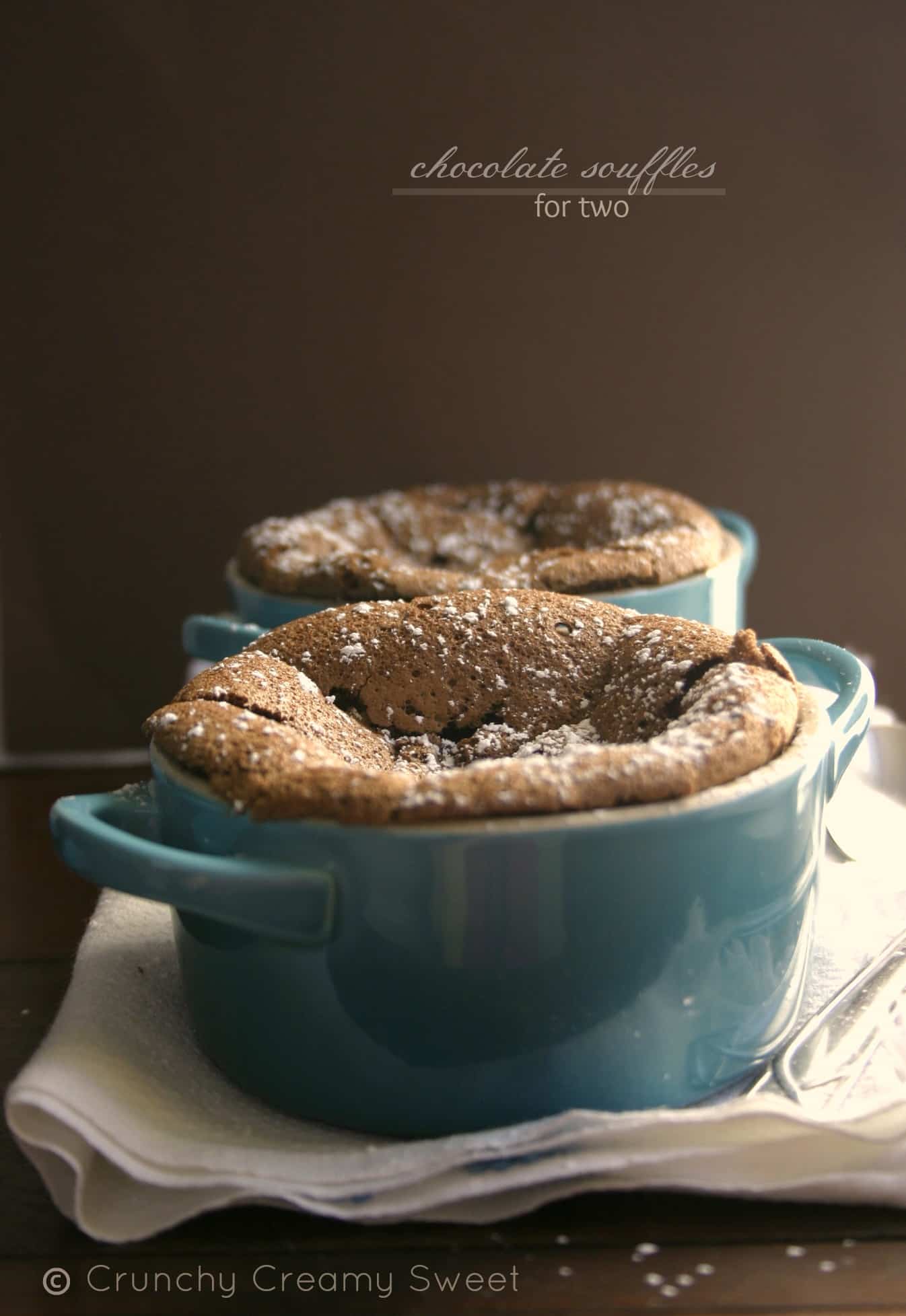 So how do you feel about a chocolate souffle? Are you one of those people who shiver at the sound of the name with fear? Or are you one of those people who love challenges and would love to try it? I was both. Souffles are finicky in their nature. You see, they are like magic. Right out of the oven they are gloriously puffed up and you may even hear the angels sing. Confetti might be raining down with fireworks going off.
 And then 2.5 seconds later your jaw drops as your souffle deflates. You are thinking: if I were to flip the dish upside down it may come back up, right? Right??!! Well. Let's look at it the other way. Your souffle came out of the oven with a gorgeous high top. And then it slowly falls down trapping all the delicious creamy, light center inside. It's deflated but glorious. And trust me, as soon as you take a first bite your knees will weaken and you will forget about the tall top it had few seconds ago.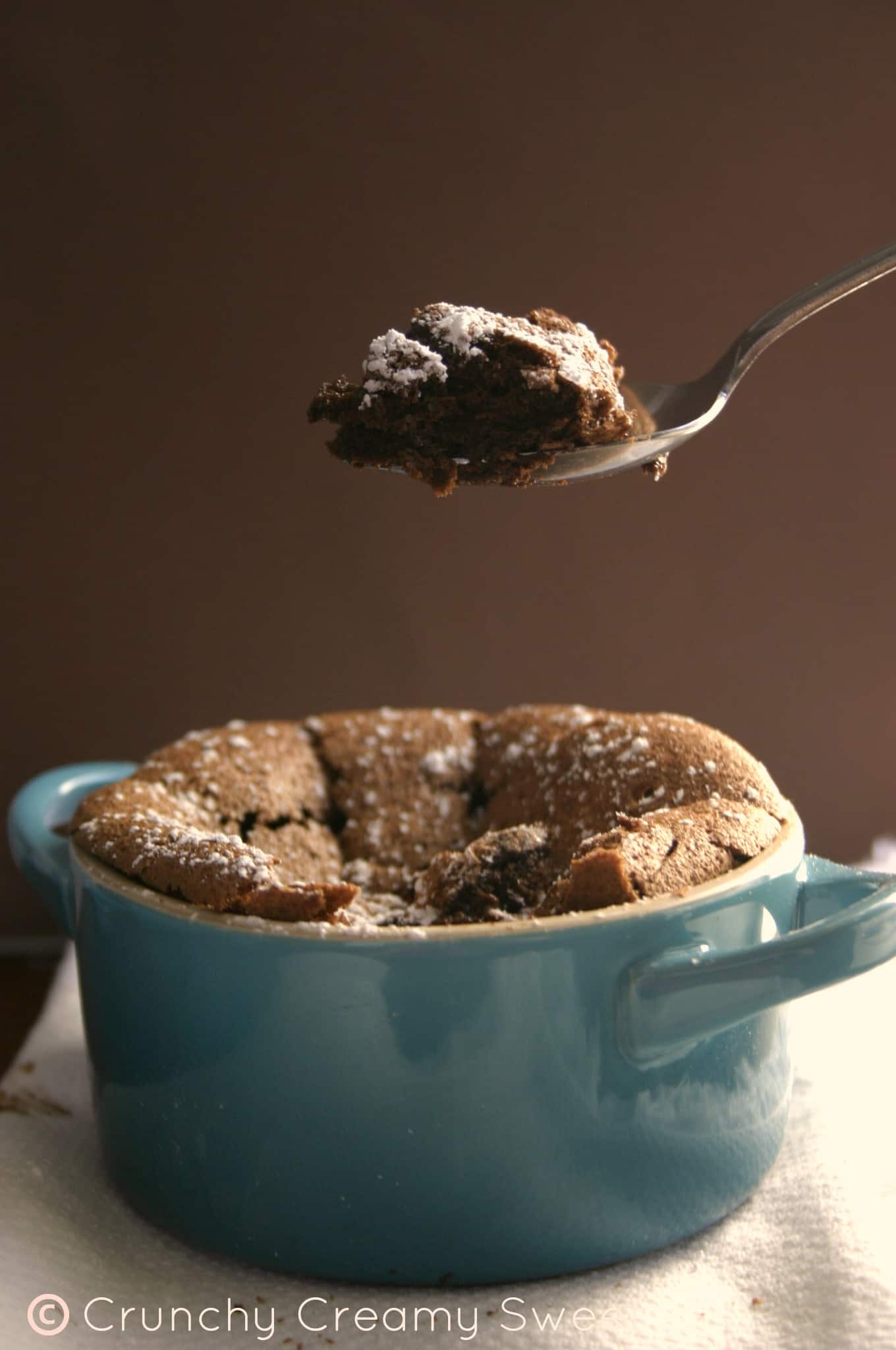 See that gorgeous dish I baked my souffle in? Isn't it beautiful? I was sent a set of mini cocottes in Caribbean by the fabulous Le Creuset. My hands were shaking when I was opening the box and I quickly named it mommy's new and precious toy. 🙂 The color is truly breathtaking. I love the gradient of it. The famous concentric rings on the lid are like a signature of quality and durability. These stoneware cocottes are time-less.
Chocolate souffles
Chocolate Souffles - decadent dessert for the chocolate lovers. It's actually really easy to make and rich in flavor.
Ingredients
3

tablespoon

unsalted butter

softened

2

tablespoon

unsweetened cocoa powder

3

oz

semi-sweet chocolate

chopped

½

teaspoon

vanilla extract

2

egg yolks

room temperature

2

egg whites

room temperature

2

tablespoon

granulated sugar

dash of salt

dash of cream of tartar
Instructions
Preheat oven to 375 degrees F.

Use 1 tablespoon of butter to grease your cocottes. Sprinkle them with cocoa powder, tapping off the excess. Place cocottes on a baking dish and set aside.

In a double boiler, melt chocolate with the remaining butter. Whisk smooth.

Set aside to come to room temperature. Add egg yolks, one at a time and whisk well.

In a clean bowl of your stand mixer, with a clean whisk, beat egg whites with a dash of salt, cream of tartar and sugar on medium speed until frothy. Increase the speed to high and beat until stiff peaks form. Do not over beat. Keep checking the peaks. As soon as you see the stiff peaks form, stop.

Add ⅓ of the meringue into chocolate mixture. Gently fold in. Add the remaining meringue and fold in until no streaks remain. Do not over fold.

Spoon the mixture into prepared cocottes. At this point you can cover the dishes and refrigerate the souffles until ready to bake.

Place in the oven and bake for 20 minutes.

Sprinkle with powdered sugar and serve immediately.
Notes
It is crucial to beat the egg whites in a clean bowl with a clean whisk. There can be no traces of grease or the meringue won't form. Bake the souffles right before you are ready to serve the dessert for the maximum impression.
Nutrition
Calories:
534
kcal
|
Carbohydrates:
38
g
|
Protein:
9
g
|
Fat:
39
g
|
Saturated Fat:
22
g
|
Cholesterol:
243
mg
|
Sodium:
66
mg
|
Potassium:
391
mg
|
Fiber:
5
g
|
Sugar:
28
g
|
Vitamin A:
790
IU
|
Calcium:
62
mg
|
Iron:
3.9
mg
Thank you so much for joining me in celebrating the biggest chocolate holiday of the year! I had a blast! Thank you for stopping by everyday and leaving comments and sending emails to say how much you enjoy the recipes and guest posts. It was fun and you are going to see more events like this in the future, here on the Crunchy Creamy Sweet blog.
You can see all of the desserts on our event's Pinterest board.
HAPPY VALENTINE'S DAY!!!
xoxo,
Anna