Double Chocolate Biscotti - crispy and chocolatey cookie that perfectly pairs with a cup of coffee or tea. Drizzle with chocolate for added sweetness.
There is a squirrel family living in our backyard tree. The mom is very protective of the little ones. She will run after any bird or other squirrel that will get too close to the opening of their home. Oh, and she yells. Like at me and my Hubby. Seriously! She will make this weird, angry, I-will-bite-your-head-off kind of sound. Have you ever heard a mad squirrel? It's scary. I feel like I have to walk on my tippy toes when passing the tree. I see the momma squirrel's head sticking out of the tree every morning. She is just watching..... I just hope one of these days she won't jump on my head! Eeeek!
Anyhow, I don't think she liked my biscotti. She was making her weird noise when I was taking photos of this delightful double chocolate treat. I even told her "hey, it's chocolate! No reason to be so mad!". She didn't care much about it. Maybe if she could try a piece, her stress level would go down a bit? I know it works for me. 🙂 I sometimes too feel like an angry squirrel mama who wants to yell at others.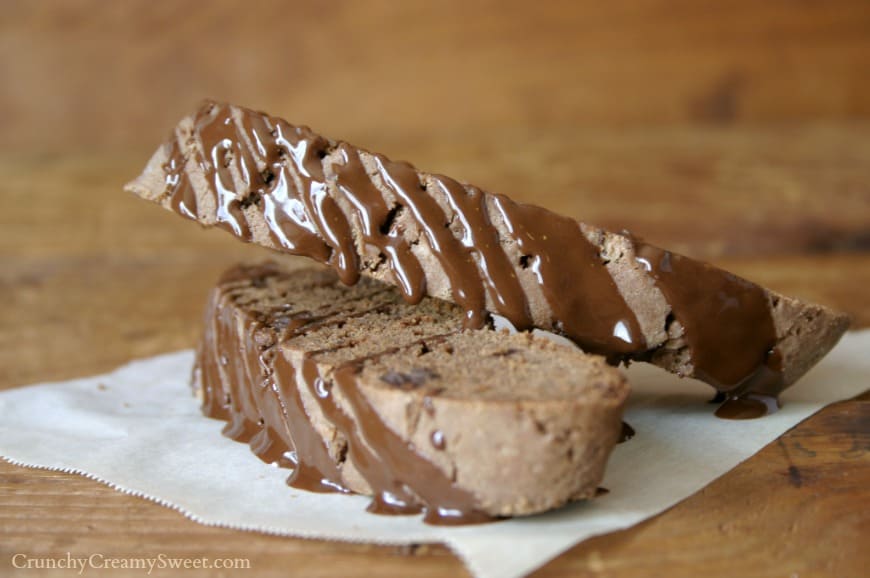 Let's leave the squirrel family and move onto this biscotti. Remember these chocolate chip biscotti aka my first biscotti? Well, since I had them I came up with about 10 more versions of this easy, no-fuss and oh-so-delightful treat. And the double chocolate is one of them.
It's perfect for those days when craving for chocolate hits you hard. There is cocoa powder and chocolate chips in the dough. If that's not enough, I drizzled them with melted chocolate mixed with coconut oil. Feel free to skip this step but I thought it looked prettier with the drizzle. Besides licking the bowl clean after the melted chocolate coconut oil mixture is pure bliss. 🙂
Double chocolate biscotti
Double Chocolate Biscotti - crispy and chocolatey cookie that perfectly pairs with a cup of coffee or tea. Drizzle with chocolate for added sweetness.

This recipe makes 30 cookies.
Ingredients
9

tablespoon

unsalted butter

, softened to room temperature

⅔

c

granulated sugar

⅓

c

unsweetened cocoa powder

2

large eggs

, room temperature

1

teaspoon

vanilla extract

1 and ¾

c

all-purpose flour

2

teaspoon

baking powder

1

c

semisweet chocolate chips

3

tablespoon

semi-sweet chocolate chips

2

teaspoon

coconut oil
Instructions
Preheat the oven to 375 degrees F.

Line a baking sheet with parchment paper or silicone baking mat. Set aside.

In a large mixing bowl of a stand mixer, cream butter for 30 seconds. Add sugar, cocoa powder and baking powder and beat until combined. Scrape sides of the bowl occasionally.

Add eggs and vanilla and beat until combined.

With mixer speed on low, gradually add as much flour as possible. Stir in remaining flour with a wooden spoon. Stir in chocolate chips.

Transfer dough to a lightly floured surface; divide in half. Shape each portion into a 9-inch-long roll. Place rolls about 3 inches apart on prepared cookie sheet.

Flatten the rolls slightly to about 2 inches wide.

Bake for 20 to 25 minutes or until a wooden toothpick inserted near the centers comes out clean. Cool on cookie sheet on a wire rack for 1 hour or overnight.

Preheat oven to 325 degrees F.

Transfer baked rolls to a cutting board. Using a serrated knife, cut each loaf diagonally into ½-inch-thick slices.

Place slices back on the cookie sheet, laying them on their sides.

Bake for 10 minutes.

Turn slices onto the other side and bake for 10 to 12 minutes more.

Transfer biscotti to a wire racks and cool completely.

!to make the chocolate drizzle:

Place chocolate chips and solid coconut oil in a microwave-safe small bowl and heat up in 10 second increments, until all is melted. Stir until smooth.

Drizzle biscotti with chocolate. Let sit for 30 minutes until the chocolate is set or dig in right away if you don't mind messy fingers.
Nutrition
Calories:
100
kcal
|
Carbohydrates:
9
g
|
Protein:
1
g
|
Fat:
7
g
|
Saturated Fat:
4
g
|
Cholesterol:
20
mg
|
Sodium:
5
mg
|
Potassium:
94
mg
|
Sugar:
7
g
|
Vitamin A:
125
IU
|
Calcium:
23
mg
|
Iron:
0.7
mg