Instant Pot Chicken Thighs Recipe – the best and easy way to cook bone-in and skin-on chicken thighs in your pressure cooker. Bonus: you can also make a delicious gravy!
I like to serve this chicken with Crispy Sweet Potato Fries or my Instant Pot Sweet Potatoes.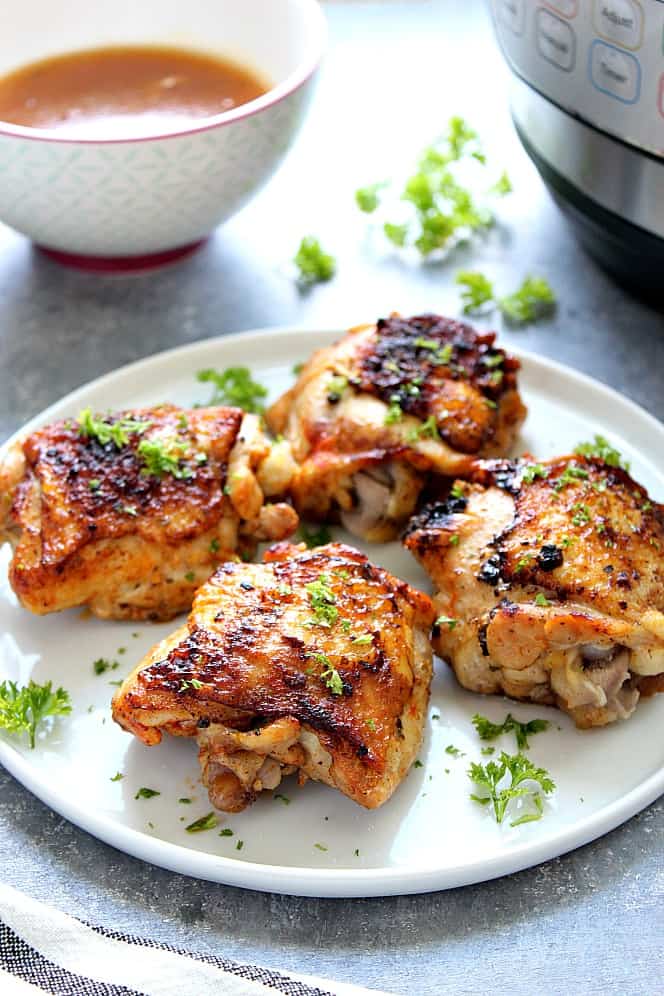 I am so excited to share my recipe and tips on how to cook chicken thighs in the Instant Pot pressure cooker! It's my favorite way to cook chicken thighs in my IP. They are juicy, flavorful with golden brown buttery skin. Perfect served for main dish or meal prep chicken cooked ahead of time for other dishes.
INSTANT POT CHICKEN THIGHS
These Instant Pot Chicken Thighs are so easy to make and budget friendly. You can use the thighs as a main dish or remove the meat off the bones and use in other recipes, as it is very flavorful because it's the dark meat. Save the liquid from cooking for soups or make a gravy to serve over the chicken. Gravy is always a good idea, just like in my Instant Pot Turkey Breast recipe!