Garlic Butter Mushroom Shrimp Pasta Recipe – quick and easy dinner idea with a ton of flavor. Juicy shrimp is simmered in garlic mushroom butter sauce and tossed with fettuccine. This dish is ready in just 15 minutes!
Another quick pasta dinner is my Spaghetti alla Carbonara, which you can serve with Crispy Parmesan Tilapia.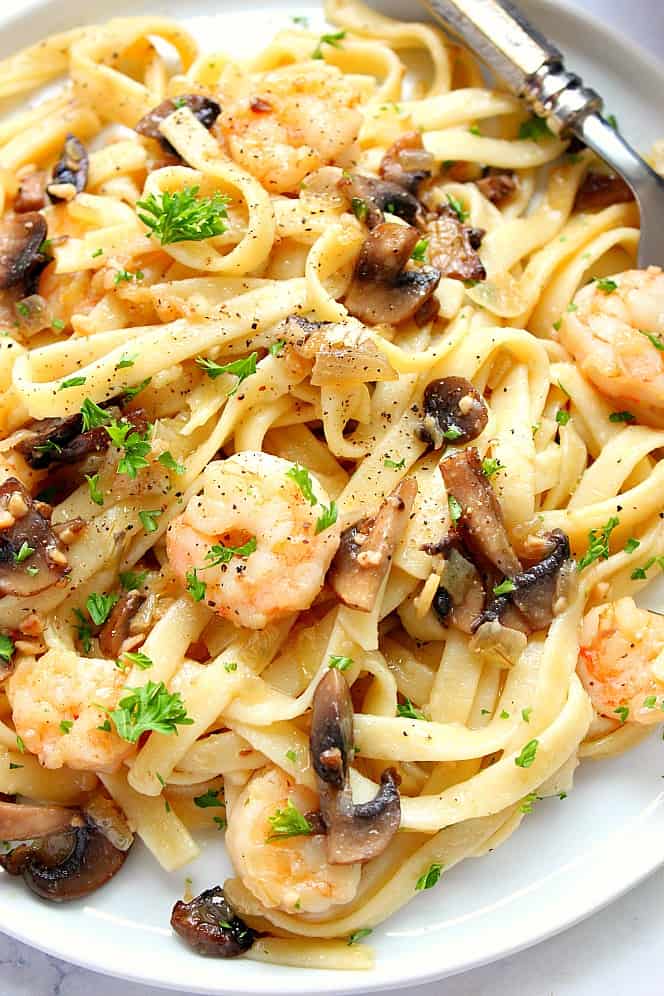 Garlic butter and mushrooms are most definitely one of my favorite flavor combos. Just the smell of garlic and mushrooms sauteing together in butter makes you hungry and you know the dish will be delicious. Point in case, my Garlic Butter Mushroom Pork Chops. The reviews prove that this combo works every time. Why not with seafood? Shrimp is absolutely fantastic with sauteed mushrooms. Add garlic butter to this combo and the whole dish is transformed into a flavor party!
GARLIC MUSHROOM SHRIMP PASTA
This Garlic Butter Mushroom Shrimp Pasta is perfect for a busy weeknight, yet elegant enough to make for a special occasion. It's absolutely delicious and so easy to make!
[Read more…] about Garlic Butter Mushroom Shrimp Pasta Recipe