One-Hour Skillet Focaccia – the best recipe for focaccia!  Easy yeast bread that's baked in a skillet and takes only 1 hour to make! Check out our tips on making a perfect focaccia every time!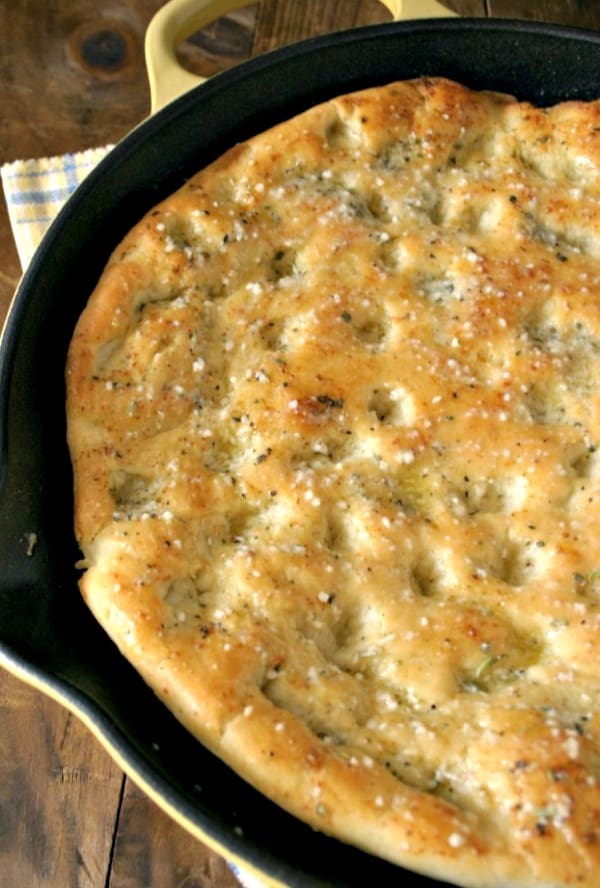 ONE-HOUR SKILLET FOCACCIA
Since I received the beautiful Le Creuset cast iron skillet, I have been researching skillet recipes for baked goods. I honestly had no idea there is so many of them! Cakes, breads, cornbreads, rolls. So many to make!
This one is our favorite of late, I have made it every day for the last week and a half and I love it! It's super easy to make even though it requires yeast. I actually timed it and you can make this baby in 1 hour flat. Twenty minutes ( or less if you don't have a toddler 🙂 ) to prep, 20 minutes to let the dough rise in the pan and 20 minutes to bake. I also have the whole wheat version and a Raspberry Focaccia. Both easy and delicious!