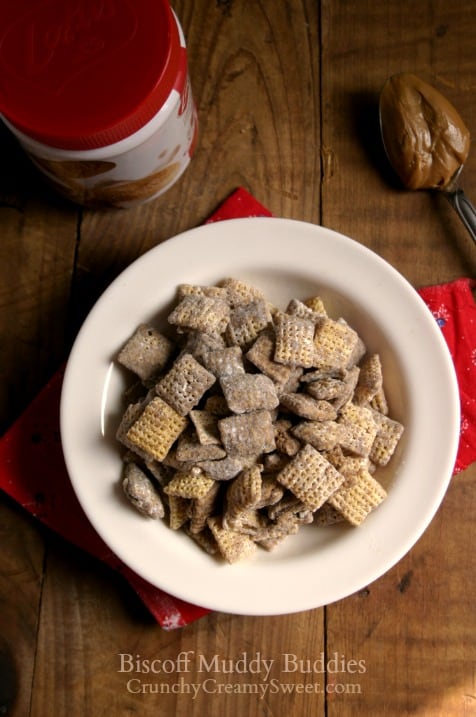 Move over popcorn! There is a new snack in town!
Not really though. It's not like you have never heard of muddy buddies aka puppy chow. But! We are talking a new flavor today.
Enter Biscoff and milk chocolate.
It's been 2 whole months since we had muddy buddies to enjoy. It's a traditional snack around Christmas for us. And popcorn is a go to almost everyday snack. But it was time to shake things up and make something different.
Besides, if you remember from this post, I have 8 jars (well, 5 left actually) of Biscoff cookie spread and I am trying to find ways to enjoy it. Besides via spoon right into my mouth. 🙂 Don't judge! I know I am not alone! 🙂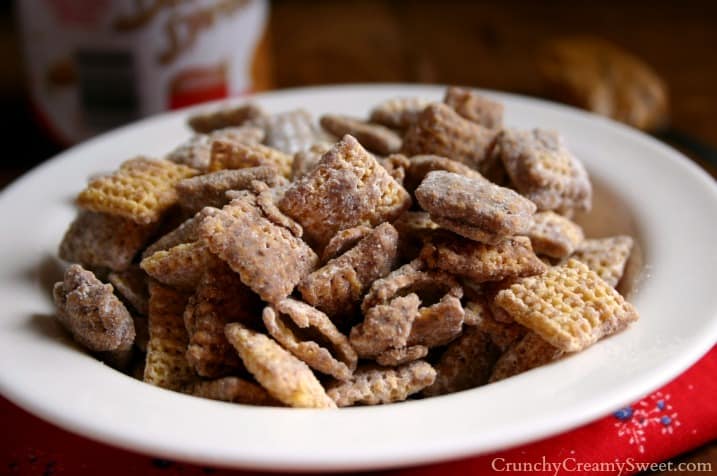 You want to know why you don't see a huge bowl in the picture? Because it's all that was left 5 minutes after I made this. And no! It wasn't only me. 🙂 Well, mostly but I had accomplices. My girls. Boys are not into Biscoff apparently.
But who's complaining? We watched "Secret of the Wings" and enjoyed this snack this weekend. We had a blast! Boys were playing Hot Wheels. They are different like that. 🙂
Let me tell you right quick about this snack. Here is the deal with cookie spread: it's tricky to use in baking. You have to know it won't solidify or harden whatever you do. I tried adding coconut oil to it in hopes it would harden. It won't. So i decided to add some chocolate (hello, never enough chocolate around here!) and see if I can still enjoy the Biscoff flavor. Milk chocolate in my opinion is better here than semi-sweet or dark because it won't overpower the cookie spread. I added it to taste it, not to just say I used it.
Biscoff muddy buddies
Fun and quick treat with the popular cookie spread! Perfect for movie nights and parties.
Ingredients
3

c

rice chex

3

Tbsp

Biscoff cookie spread or cookie butter

1

oz

. milk chocolate

, chopped

3

Tbsp

powdered sugar
Instructions
Place powdered sugar in a medium Ziploc bag.Set side.

Place rice chex in a medium mixing bowl.

Place chocolate in a small microwave safe bowl and cook in 10 second increments until melted.

Stir until smooth.

Stir in Biscoff. Mix well until smooth.

Pour Biscoff chocolate mixture over rice chex and toss to coat well.

Place the chex in the Ziploc bag with powdered sugar and shake until each piece is nicely coated.

Transfer into a bowl and serve.
Nutrition Facts
Biscoff muddy buddies
Amount Per Serving
Calories 134
Calories from Fat 36
% Daily Value*
Fat 4g6%
Sodium 122mg5%
Potassium 35mg1%
Carbohydrates 22g7%
Protein 1g2%
Vitamin A 250IU5%
Vitamin C 3mg4%
Calcium 50mg5%
Iron 4.6mg26%
* Percent Daily Values are based on a 2000 calorie diet.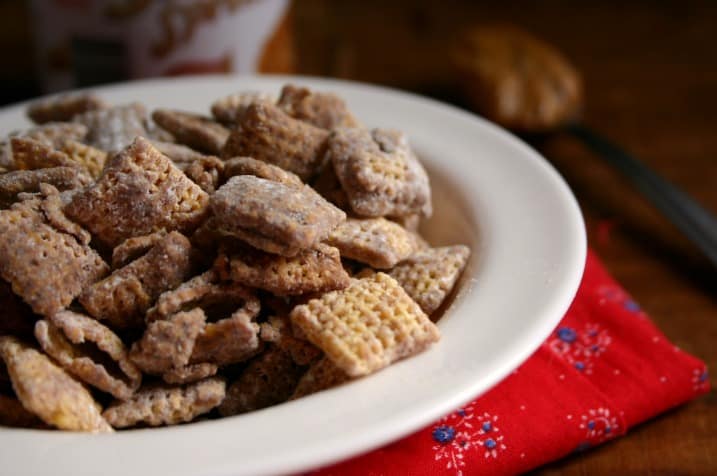 So if you need a little jazz in your life, try this version of muddy buddies. And I will tell you right now: double the recipe. It goes fast!