20-Minute Beef Stroganoff Recipe – make this classic dish right in your kitchen with just a few ingredients and only 20 minutes from start to finish! Comfort food at it's best!
Beef stroganoff is quite the special dish for us. It's was my Hubby's favorite thing to cook before we met and he is the one who taught me how to make it! It's one of our favorite dishes and we always make it together. Over the years, we perfected it and learned a few tricks that help. We are about to show you how to make the best beef stroganoff right in your kitchen and in just 20 minutes!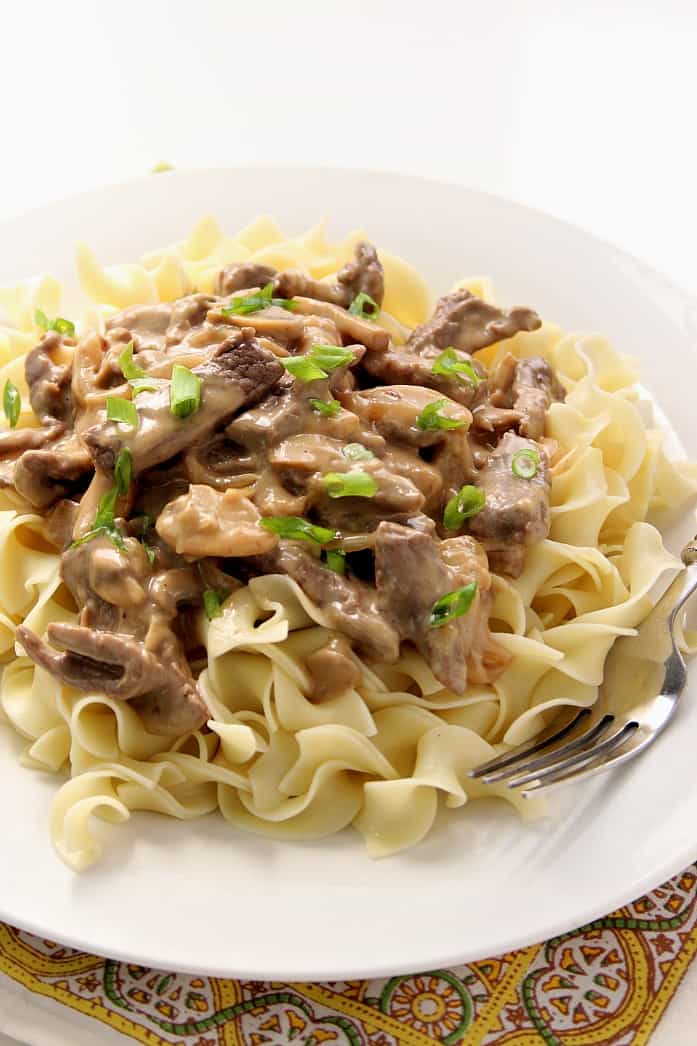 HOW TO MAKE BEEF STROGANOFF
If you ever had beef stroganoff, you know that it is a must to serve it with wide noodles. For us, it's always
No
Yolks
® Noodles and we love the extra broad kind. Our kiddos love them too! They are their favorite soup noodles and so fun to eat.  They are cholesterol free, cook quickly and taste absolutely delicious! This recipe really requires just a handful of ingredients. You need beef, cut into about 1/4″ thick pieces (we used the stir fry kind), 1 medium onion, baby bella mushrooms (washed and sliced), garlic, beef stock, Worcestershire sauce, sour cream and salt and pepper. There is a lot of recipes out there using up to 2 cups of sour cream which we find it way too much. For us, half of a cup is just right. It makes the dish creamy without overpowering it, so you can enjoy the beefy flavor. You can use white mushrooms in this recipe, if that's what you have on hand but we find the baby bella kind to have more meaty flavor.
—>> Check out our new vegetarian version of this dish: Easy Mushroom Stroganoff!
To make this dish even lighter, use cornstarch in place of flour (use only 2 Tablespoons) and Greek yogurt in place of sour cream. Beef stroganoff is at the top of our pure comfort foods list and we want you to love it too! We created a video so you can see how easy it is to make it! Check it out!