Pasta Carbonara – the easiest pasta dish you can make! This creamy fettuccine with bacon, ham and cheese is bound to be a hit!
Hi Friends! How was your weekend? Gorgeous, I hope! We are having a beautiful fall here in Kansas. Usually, this time of year the winds get chilly and I do not leave the house without a sweater or even a jacket. This year, I can count the chilly sweater-days on one hand. It's been warm and sunny. The trees are turning fast and our backyard is covered in leaves. My girls know how to appreciate nature so they have been gathering the prettiest ones and arranging them in little vases. Their brother, as a boy would, runs through the piles of leaves and throws them in the air, giggling the whole time! I love this time of year so I am trying to soak all of those moments as much as I can.
MY LATEST VIDEOS

I think Fall has the most beautiful pallet of colors of all of the seasons. It's breathtaking! The only fact that reminds me that winter is close, is the fact that it's still pitch black dark at 7am. It's almost scary!
Pasta dishes has been getting lots of love here on Crunchy Creamy Sweet. Thank you to all of you that try the recipes, share them and report back to me how much you enjoy them!
Here is another one for ya! One of our favorites that we also make for my Hubby's birthday. It's his favorite Italian dish. Few years ago, I learned how to make it from scratch at home and let me tell you – we are both super happy about that! 🙂
Pasta Carbonara – one of the easiest pasta dishes you can make! It is packed with flavor and so creamy that there are never any leftovers! Because, hello! , bacon, ham and cheese! All tossed together with creamy fettuccine. Dinner in 15 minutes – now that's a keeper!
This dish is significant to the Midwest as the coal miners in southeast Kansas were making this pasta, hence the name: carbonara (from carbon). You can argue the origin of this dish. Some say that during the World War 2 brought bacon to Europe and were cooking this dish over there. We like to think it comes from here. 🙂 Whoever came up with this dish, was a genius. Creamy pasta and meat – you can never go wrong with that!
The dish starts with frying the bacon in a large skillet. You can either chop it into small pieces before frying or break it as soon as it gets crispy. To the bacon and it's grease, you add the ham and garlic and let these cook. The original recipe had the sauce based on eggs but we are simplifying the dish today. Simple mixture of milk and cornstarch added to the pan will create a creamy sauce and let all of the ingredients and flavors bind together. If you want to lighten it up, bake the bacon in the oven and add to the finished sauce. At the end, stir up the Parmesan cheese until it melts. This is one comforting pasta dish that you will love! Easy and packed with flavor! Enjoy!
For condensed instructions and printable recipe, click HERE.
 Related Recipes:
Healthy Spinach Dip  Mac and Cheese
One-Pot Creamy Mushroom Spinach Pasta with Beans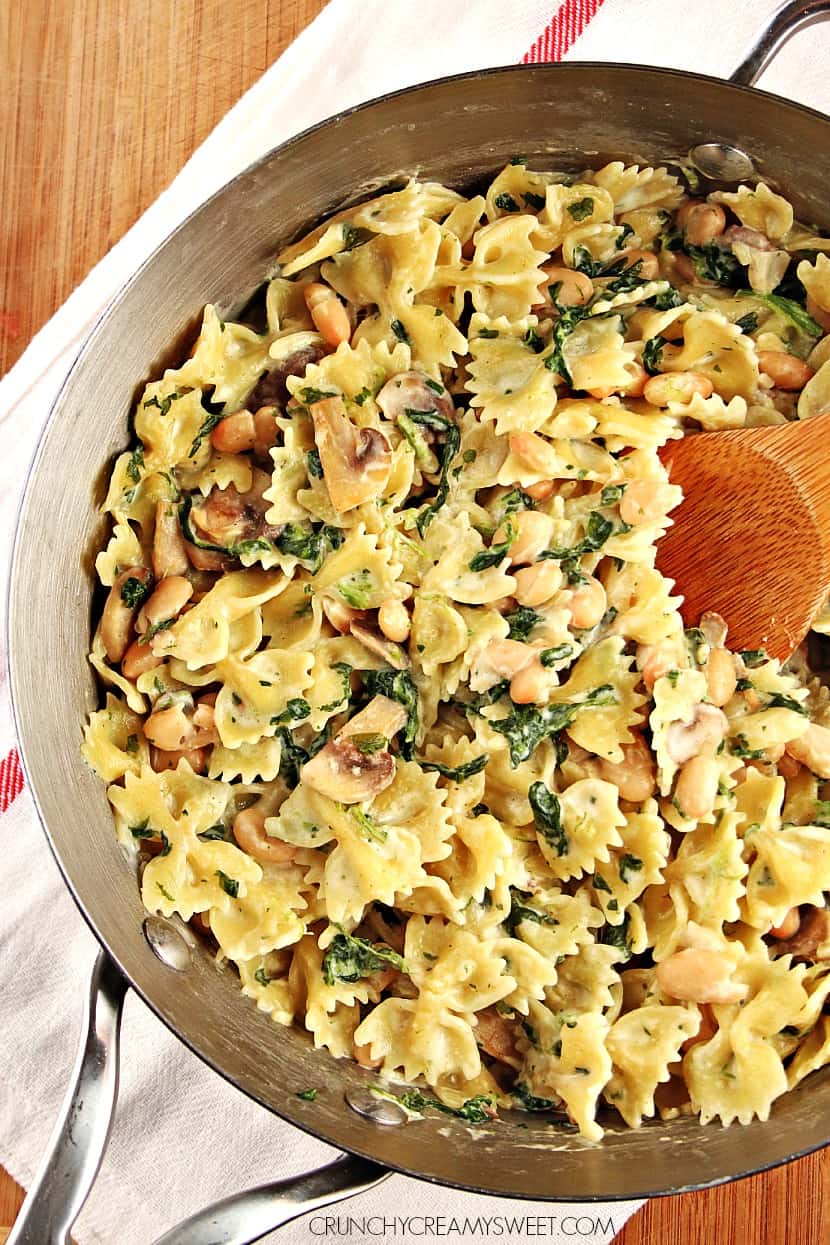 Cheesy Chicken Alfredo Pasta Bake
Roasted Garlic Cauliflower Alfredo Sauce
Sweet Corn and Zucchini Pasta with Bacon