2014 Holiday Gift Guide!
In 2014, I was and still am lucky to partner with amazing brands. I had a chance to try their products in my kitchen and truly test them as I bake and cook every day. Today, I am taking all of my knowledge about them and sharing my Holiday Gift Guide for 2014! I hope you will find it helpful in finding gift ideas for those on your list.
Le Creuset products
I will always recommend Le Creuset products as gifts. I own a few pieces and they are truly cherished in my kitchen. They are perfect for beginner bakers and cooks as well as those who have experience in the kitchen. Le Creuset pieces are beautifully made and will last you for a long time. The colors and shapes are famous. I have seen them many times in movies and TV shows. You can see Taylor Swift receiving them as housewarming gifts! To learn more.
Cuisinart Hand Blender
I am so excited to tell you about this product! It's my new kitchen helper and I love it! Cuisinart created a tool that goes beyond being a hand blender to blend your sauce or soup to absolute perfection. This blender can blend, purée, chop, grind and whip creams and meringues. It's an all-in-one tool that does not take a lot of space. In fact, it fits in one of my drawers. Need to whip up a quick salsa or hummus? Or maybe you need to grind cheese or chop onion for your dish? No problem! This blender easily transforms into a mini food processor! No need to pull out the big appliance – this baby will do it in a flash! One of my favorite features is the whisk attachment. I can make whipped cream in one minute and it's absolutely perfect. Easy to assemble, easy to clean – this tool is a must-have in your kitchen and on your gift list!
Outdoor Grilling Entertaining Set from Elizabeth's Everyday Essentials by Revol
This set is a newly discovered for me product but I am totally in love with it and the idea behind it! If you look at some of my photos , you will notice that I use slate as a background. They are simple slate boards. But I always had to be careful not to stain them or spill something on them, because slate is porous and not at all easy to clean. Revol to the rescue! This French company makes a gorgeous line of products that look like slate but are made our of porcelain! That means you can easily wash them (even in your dishwasher!) and use over and over and over! They are perfect for entertaining your guests and in every day use. This particular set that we have is a steak plate with a sauce bowl. It's large enough for slicing a big steak or any other grilled meat. You can serve the food straight from it. It's 100% food safe, it won't scratch or chip. Perfect for those who love to cook, grill and entertain!
Belgium Waffle Maker from Waring
Waring is a company that makes professional quality products for the home. Ever wanted a kettle corn or a cotton candy maker? How about a restaurant-quality waffle maker? Waring has got you covered! This rotating waffle maker makes restaurant quality Belgium waffles right on your kitchen counter. We make pancakes and waffles for breakfast every Sunday and ever since we had this appliance, we are enjoying Belgium waffles as well (keep a look out for a recipe!).
Hamilton Beach Slow Cooker
Sphere Ice Mold from Tovolo
Friends, ice trays are overrated. Forget the small, square cubes and step into a new world of ice molds. This ice mold from Tovolo makes a sphere shaped ice for your drinks. It's a great gift idea for the men in your life that enjoy cocktail-making as well as the entertainers.
Joseph Joseph Index Cutting Boards Set
Do you ever find yourself washing your cutting board in between of chopping onion and slicing chicken? Are you concerned about cross-contamination? This cutting board set from Joseph Joseph is the solution! This set comes in a case which makes the storage super easy. But that's not all! Each board, as design for a different type of food, has it's own features: a juice-catching groove on the red meat board; a sloping rim for catching food and liquids on the green vegetable board; an integrated fish-grip on the blue seafood board and crumb-catching grooves on the white cooked food board. Now you can be efficient and organized in the kitchen!
Edin Cake Stand from World Market
One of my favorite cake stands is this one from World Market. I love it's rustic style. It's perfect for layer cakes, bundt cakes, muffins or cupcakes.
 Cupcake Scoop from Tovolo
This is one innovative tool for the home bakers. A cupcake batter scoop  that makes it easier to get the same amount of batter every time into the cupcake wrapper. The plunger makes sure there is no batter wasted!
Silpat The Original Silicone Baking Mats
The Silpat baking mats are a must-have for those who bake a lot of cookies. But not only! Silpat also makes a Silpat Entrement – a silicone baking pan; Roulpat – a non-stick countertop workstation mat; and Silpain – a silicone baking mat for breads! Any home baker will appreciate these as a gift!
Duo Bake from Joseph Joseph
Judging by the pizza recipes here on our blog, you know by now that we love to make pizza. In fact, every Friday is pizza night. This Duo Bake from Joseph Joseph is my Husband's new favorite tool in making the dough. It's a two-in-one tool, a bowl scraper and a cutting blade. Perfect for getting the yeast dough out of the bowl and dividing it into 3 perfect pieces to make 3 amazing pizzas.
Spatulart from Tovolo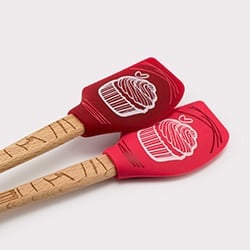 I always say that baking should be fun and make you happy. It's definitely a therapy for me. My girls are reaching the age where they want to help more and are able to do more in the kitchen. Baking is definitely something they enjoy. Now, even more with these fun spatulas from Spatulart line by Tovolo! These spatulas come with an array of designs! Something for everyone!
~~~~~~~~~~~~~~
What is on your wish list this year?