Oatmeal Raisin Chocolate Chip Cookies – chewy and packed with goodies! These oatmeal cookies are bound to be a hit!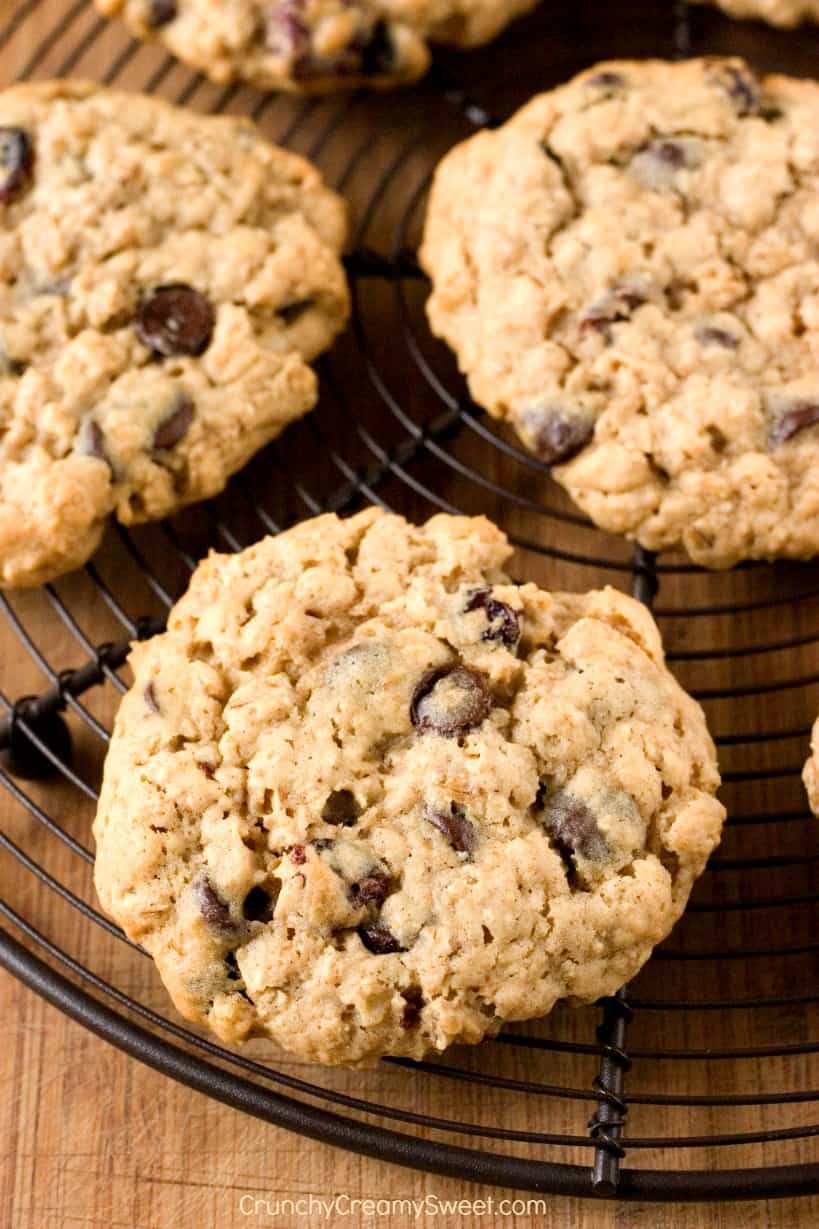 TGIF, my peeps!
The squirrel family saga continues. Remember the mad momma squirrel that would yell at me every time I passed her tree home? Well, appears that she had a very good reason. She was protecting her little babies! Yes, there are baby squirrels in our backyard tree! Absolutely adorable! So adorable in fact, that it makes you want to take them home, pet and keep them! (Hubby is just shaking his head right now)
Every morning they venture out of their tree to nibble on leaves and bark. They don't go too far. I have not seen them leave the tree yet. The baby squirrels love to peek out of the hole with their tiny heads. Many times you see two heads sticking out. I was able to get quite close to them and I snap some pics with my phone. Here is one. Click on the picture to make it larger.
When I was in high-school and beginning of college, I wrote a few children's stories. Animals were always perfect for the adorable little characters. These little fellas reminded me of this and now I am thinking I should try and write a story for my kiddos with the squirrels as the main characters. It would be fun and I think they would love it! My kids and the baby squirrels. 🙂
Beautiful nature aside, let's talk cookies. Cookies packed with goodness. We are talking oats, raisins and chocolate chips. I know some people don't like raisins in their cookies. Well, I happen to love them. The texture and the sweetness. Pair it with chocolate and wrap it all up in an oatmeal cookie dough and there is no stopping after one cookie!
They are thick and chewy and oh-so-delicious, especially still slightly warm!
This recipe makes a perfect batch to satisfy your cravings and your sweet tooth.
Oatmeal Raisin Chocolate Chip Cookies
Oatmeal Raisin Chocolate Chip Cookies - chewy and packed with goodies! These oatmeal cookies are bound to be a hit!
Ingredients
1/2

c

unsalted butter

(1 stick), softened to room temperature

2/3

c

packed light brown sugar

1

large egg

1/2

tsp

vanilla extract

3/4

c

all-purpose flour

1/2

tsp

baking soda

1/2

tsp

cinnamon

1/4

tsp

salt

1 and 1/2

c

old-fashioned oats

3/4

c

raisins

3/4

c

semi-sweet chocolate chips
Instructions
In a large mixing bowl, whisk together the dry ingredients (flour, soda, cinnamon and salt). Set aside.

In a large mixing bowl of a stand mixer, beat butter for 30 seconds. Gradually add brown sugar and beat until fluffy and light in color.

Add egg and vanilla and mix until smooth.

With the mixer speed on low, mix in the dry ingredients.

Stir in oats, raisins and chocolate chips.

Cover the top of the bowl with saran wrap and chill for at least 2 hours or overnight.

Preheat the oven to 350 degrees F.

Line baking sheet with parchment paper or silicone baking mat.

Scoop the cookie dough onto the sheet. I used two scoop of a medium (1,5 tablespoon) cookie dough scoop per cookie.

Bake 12 to 15 minutes. The cookies will look slightly underdone in the middle yet browned on the edges. Let them cool on the sheet for 5 minutes. They will continue to bake.

Transfer onto a wire rack to cool completely.
Nutrition Facts
Oatmeal Raisin Chocolate Chip Cookies
Amount Per Serving
Calories 120
Calories from Fat 54
% Daily Value*
Total Fat 6g 9%
Cholesterol 17mg 6%
Sodium 57mg 2%
Potassium 84mg 2%
Total Carbohydrates 15g 5%
Protein 1g 2%
* Percent Daily Values are based on a 2000 calorie diet.