5-Minute Pizza Sauce – super simple homemade pizza sauce that takes only few minutes to whip up in the blender! It's delicious and takes your pizza to a whole new level! 
Just in time for Pizza Friday!!!
My secret to a fantastic pizza at home: homemade sauce that takes only 5 minutes to make. And you have to try it!
Few years ago, when we started making our own pizza at home (you can read our story here) we focused on getting the most important part of it perfect: the dough. Now that we have mastered that (you can check out our pizza dough tutorial here), it's time for the second most important ingredient of a homemade pizza: the sauce!
I will admit that on the beginning we were using a spaghetti sauce from a jar because it was cheaper than pizza sauce. #lame
But we quickly got tired of it and wanted more tomato flavor in the sauce. Since than I have been using this recipe and it's a family favorite. It's perfect when it comes to the texture and flavor. It's not runny or watery, but thick just right. It has the desired tomato-garlic flavor with a touch of Italian herbs. So good – I love if for dipping flatbread slices in it!
This sauce has not only made it onto our pizza but I also used it in this Pizza Bread and saucy pasta casseroles. It's so good you will want to use it beyond pizza! Good thing that this recipe makes 3,5 cups – you can use it for your pizza night and for pasta dinner!
If Friday night is pizza night in your house, I highly encourage you to make the dough and this sauce, top it with your favorite pizza toppings (pepperoni, mushrooms, red peppers and onions are mine!) and of course lots of cheese! Keep the sauce leftovers for pasta night. Talk about time and money saver!
For condensed instructions and printable recipe, click HERE.
~~~~~~~~~~
If you like this recipe and make it, snap a photo and share it on Instagram! Tag me @crunchycreamysweet or #crunchycreamysweet so I can check it out! 
Related Recipes: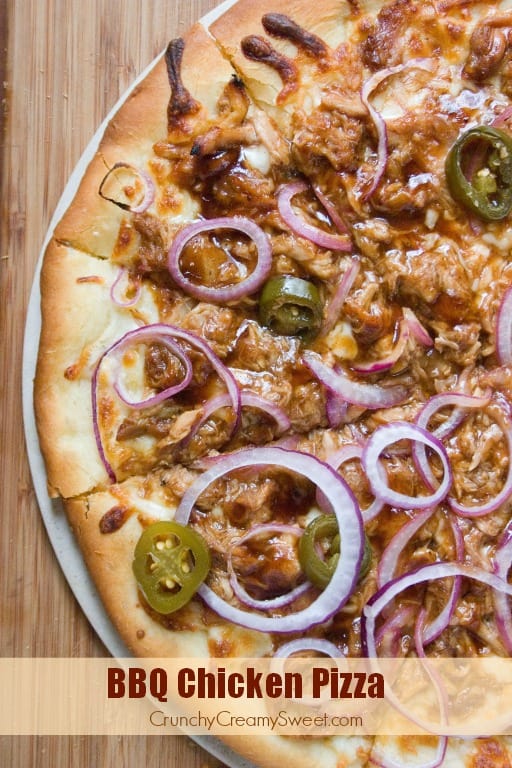 Reader Interactions