These Cranberry Jam Diamond Pastry twists are perfect for a holiday breakfast! So easy to make with the help of Pepperidge Farm® Puff Pastry Sheets!
Warning: this post is photo-loaded! It's all because I want to show you how easy it is to make these adorable and absolutely scrumptious Diamond Pastries.
Two reasons I am super excited to share this post with you today: 1) cranberry season is here!! Woooot! I love love cranberries and always buy tons of them. I always make my very favorite Cranberry Jam (fridge-style, no pectin). By the way, I updated the recipe and I highly recommend checking it out!! 2) We are working with puff pastry today, which is one of my favorite things to bake. It's so fun to work with and so versitile. You can make tons of fun pastries for breakfast or as an afternoon treat. The Pepperidge Farm® Puff Pastry Sheets is always my favorite to buy.
I took step by step photos to show you how to make the diamond twists. If you are a visual person like me, it will help a lot. These pastries are super easy to make, but sometimes it helps to see things in the making. I also suggest trying on a piece of a kitchen paper towel, just to get the hang of it. Just follow the photos/steps using a square of the paper towel. Then use the puff pastry.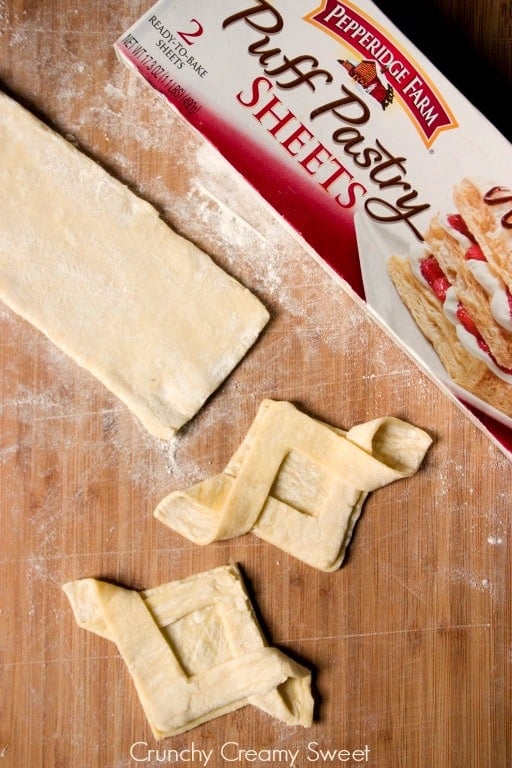 Thaw out the puff pastry sheet. Place on a lightly floured surface and roll out thin. It helps to still see the seems (puff pastry comes in a folded sheet made of three pieces). They can act as guides. You can separate the sheet into the three pieces and then work with each. One sheet of puff pastry should make two large diamond twists, with some scraps. (I made smaller twists for the photo purposes).
Roll out each piece of dough thin. Fold one corner to make a square. Cut if off.
Open the square to see if the sides are straight. They don't need to be perfect, just resemble a square. 🙂
Fold the square back and make two cuts towards the tip, but do not cut all the way through!
Open the square.
Fold one corner towards the center square.
Repeat with the other side.
Voila! You made a diamond twist! Place the twists on a parchment paper lined baking sheet. Now just add a filling. I used my Homemade Cranberry Jam, placing about 1 tablespoon of it in the center. Brush the edges with egg wash and bake for 12 to 15 minutes, until the pastry is golden and puffed.
These Diamond Pastries are perfect for a weekend breakfast or as an afternoon treat. My Hubby loves pastries so he was really excited to have one with his morning coffee. It instantly makes the morning a little more special. 🙂
They will make an appearance on our Christmas morning. I think they look quite festive and because you can form the twists the night before and refrigerate them overnight, they are perfect for the holiday season.
.
Reader Interactions